« Listen up! | Main | Circle of Fifths Examples »

August 19, 2006 | Two-Note Chords
Jazzers can be guilty of making things too complicated. (Like this is news to you.) We can get so carried away with extended chords and complex voicings that sometimes our ears (and fingers!) beg for some simple variety...
We've made the plea for the purity of the Three-Note chord, but let's go a step farther and reduce things to two. We know that the two most import tones are the 3rd and 7th, assuming the root is already going on in another instrument, likely the lowest one or bass. Anything else, 9th, 11th, 13th is just icing on the cake.
Take a look at a potential fingering for comping on the tune "Sweet Georgia Brown." Here we strip away all but the 3rd and 7th of the first three chords, and listen how pure, yet complete this sounds: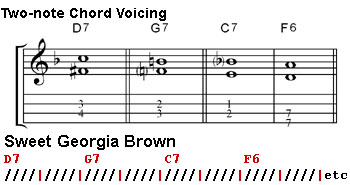 Since it's a Circle of 5ths progression with a succession of Dominant 7ths, notice how little you have to move. Remember this trick; it's one you'll be able to repeat any time you have this in another key. By playing it this way, you have several benefits:
You can offer more variation in the way you mute or choke these notes, too. Drive them 4 to a bar, accent the back beat, or just "chop" on the back beat. If everyone else is quiet enough, this will make the audience listen closer. (It's especially appropriate during a bass solo.)
Take it easy, once in a while.
Posted by Ted at August 19, 2006 9:25 PM