Rigel Q-95: The "Gypsy Q"
For the Gypsy in you...
In cooperation with Rigel Instruments, Jazzmando has developed an exciting new model for the Gypsy/Django player!
Listen to MP3's!

My Foolish Heart

It is Well (With My Soul)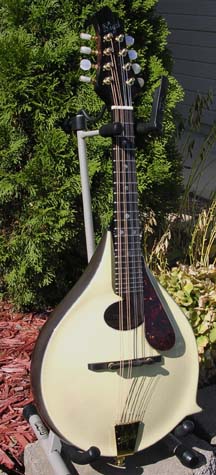 Tortoise Oval hole binding and pickguard, for that "Gypsy" vibe...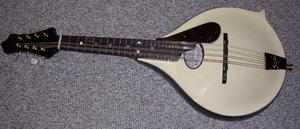 Espresso Con Pana: Espresso-burst back & sides with cream top.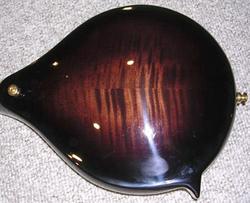 Unique "Lap Point" corner for sit down playing.
Secret sauce: Special chamber carving to yield a Vintage 'teens Gibson sound--the tone of the early 20th century, but the feel and stability of 21st century technology!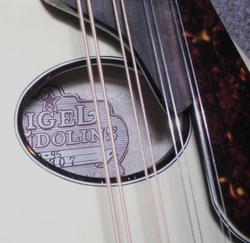 Oval hole bliss... Like an evening in a hot tub.

Sweet Sixteen:
Rigel's tribute to the 'Teens Gibson A models, great attention has been afforded to capture the sweetness of these classic instruments, but with a modern twist: radiused (curved) figured maple sides. A carefully chosen carved maple back, the "secret sauce" of these mandolins is the painstaking process of tuning the spruce top for that "sweet sixteen" tone. Another departure is the ergonomic addition of a Loar style "lap point," the corner on the lower treble side yielding comfort and stability while playing sitting down--the ultimate "Lap" instrument!

This instrument was designed for more "intimate" Gypsy music, for the privacy of your own porch or the coffeehouse. But the potential certainly doesn't stop there! Classical, Choro, even cerebral folk music can be done justice with the sophisticated tone of this extremely versatile critter.
Though it's subdued charm bodes well in most quiet acoustic environments, it's rich mature tone is capable of being heard above the din of the clanking of cappuchino cups. Need one step louder? It's built-in piezo pickup is ready for simple plug in; crank it to your heart's content. Just don't set your amp for "11;" 6 is probably enough...
Read more about the Q-95 on the Rigel Website.
Features:

Rounded profile neck, radiused ebony fingerboard makes your left hand feel at home.


Unique "Lap Point" for sit down playing and lap stability.


Gold Grover tuners for rock solid tuning precision


Rigel proprietary gold tailpiece, convenient downhooks for amazingly simple and quick string changing


Built-in (internal) out-of-the-way piezo pickup, 1/4" jack out of the endpin button for no-fuss amplification
The ax for the mandolinist with an interest in gypsy "Django" jazz, and perhaps an additional interest in "Euro-Choro." An auxiliary instrument designed to fill the gap of aging, deteriorating, and decrepit "Teens" Gibson mandolins.

Rigel Q-95
"Espresso con Pana"
(espresso with a dollop of cream)
Espresso-burst back & sides with cream top, with tortoise shell pickguard and oval hole inlay.
List $2850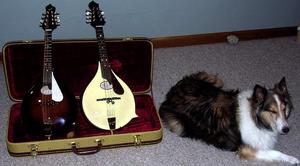 Oui! An instrumente tres belle...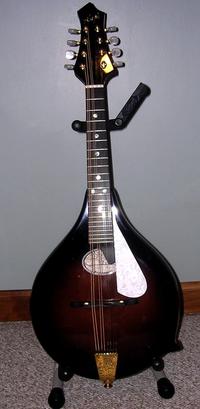 SECOND STANDARD COLOR OPTION:
Doppio con Zucchero*
(double espresso with sugar)
*Espresso-burst top, back and sides, with
white marine pearl pickguard and oval hole inlay.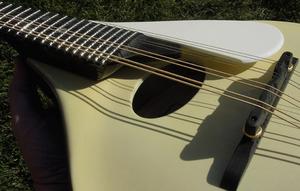 Variation: Cream top with "White Chocolate" Pickguard.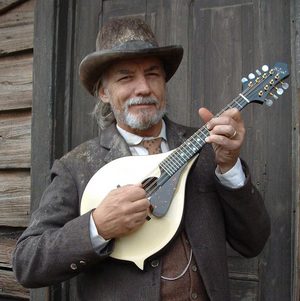 Michael Johnstone, Happy Rigel Customer!
Taking time out from filming HBO's critically acclaimed series "Deadwood."