« How modes affect mood | Main | Tenor Guitar & Tenor Banjo Chords »

January 29, 2015 | What makes a jazz mandolin
Five years ago, we posted an article "Brilliance isn't always smart," in which we examined the notion of what makes a mandolin a "jazz mandolin." Most instruments will work for jazz; some may have more potential than others for communicating line and playing chromatically than others, but we offered our own consensus on what works for the genre.
Controversy.
Understand there will be some disagreement even on the notion of "jazz." If you talk to a group of European gypsy jazz acoustic musicians, they need to be armed to live in a world of decibel wars with other instruments. They need the piercing crunch of a chop, much as a bluegrass musician, and that's simply not the sound we're talking about. We are more about ballad and single-note melody with a smattering of accompaniment polyphony. This is a concept where a mandolin is more like a clarinet than a cowbell. It's not about punctuation or percussion, it's about line, subtlety and harmonic nuance.
This kind of tone is maximized on an instrument when attention is focused on string fundamental. Without going too deeply into the science of acoustics, let's just say when sound is produced it includes a composition of fundamental and the harmonics above that pitch. Tuvan throat singers and Digeridoo players make their music by varying the harmonics above a low, droning tone (or fundamental), and this is a simple example of what we are talking about. The same happens when you mess with the tone controls on a stereo; the bass and treble give you a different emphasis on which end of the spectrum the speakers will emphasize.
Understand treble yields definition. This is why microphones designed for speaking are an entirely different animal that one for a musical instrument. The "punch" of highs are necessary for enunciation and word articulation shaped by the percussive impact of lips and teeth. The highs also project across the room, something needed in a bluegrass jam, but not in a musical serenade. Bass wavelengths betray no proximity.
The need for harmonic purity.
There's another reason why the emphasis is on string fundamental is relevant to harmonic conflict. The upper partials of an open triad are great for the sympathetic resonance of a barbershop quartet singing pure triads, and the zingy resounding drones of a celtic drone, but once you start throwing upper chord extensions of complex jazz vocabulary, you really get a conflicting harmonic mess. When you listen to the tone of a good jazz guitar, you'll hear a flatter tone (often flatwound strings), less piercing treble, and a string fundamental that allows the harmony to create the complexity and character of the music, not the instrument.
We're prone to use instruments that are capable of sustain, rich fundamental, and ease of closed fingering for the chromatic variety in the often rapidly shifting tonal centers of jazz. We'll sacrifice the percussiveness.
It's a mandolin, not a cowbell.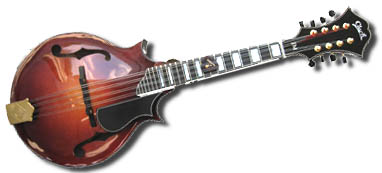 Further:
What makes a jazz mandolin?
Jazz and Bluegrass; how close?
Blowing Through the Phrase
Thinking Good Tone Part 1
Posted by Ted at January 29, 2015 9:14 PM