« New: The Real Jazz Solos Book | Main | Reviewing Scurry Dominants »

February 27, 2014 | Mike Marshall on Tremolo
Tremolo is inarguably the foremost recognizable character of mandolin technique. Even the non-musician can recognize the sound of the mandolin in a movie score or commercial when it's used. It's that unique to the instrument.
While we don't think it can ever replace the line propelling sustain of good grip and right hand/left hand coordination, it is important to be able to play a healthy smooth tremolo, and Mike Marshall demonstrates a few important tips to help make this happen for you.
Enjoy the following video.
Video Link: Mike Marshall Mandolin Lesson: Tremolos

Notes:
Position the angle of the neck up so you aren't stroking perpendicular to the strings.
Don't grip the pick too firmly, don't dig deeply into the string with the stroke.
Sweep less distance on the thinner strings.
Learn to exploit a range of tremolo tones by focusing on each string.
It's all about smoothness.
Want to learn more about Mike Marshall's online school?
Sign up for more instruction: ArtistWorks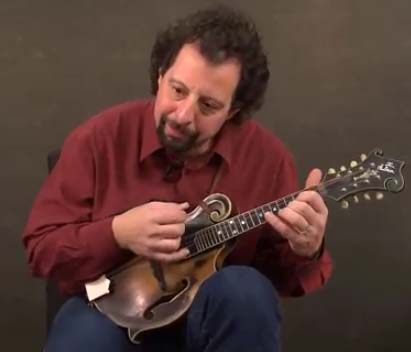 Posted by Ted at February 27, 2014 11:21 AM