« Mike Marshall School of Mandolin Review; James Condino | Main | John McGann: A suggestion for people getting started with improvisation »

January 17, 2013 | 'I vi ii7 V7' 3-note chord blocks
In our series of Vamps, we looked at movable blocks of 3-note chord patterns, how they could fill in gaps of long, static areas of progressions. We took the same approach to V7, Minor7, and Major7 in all the possible inversions. If you haven't already, you should spend some time with these and try to get them into the subconscious of your fingers. (See links below.) The meatier lower three strings of your mandolin (especially if you're wielding a 5-string) can give you a strength to your accompaniment duties, and as we mentioned, set you up for some logical steps to chord melody when you add the E string.
We've previously introduced a very common chord progression in our FFcP series, the 'I vi ii7 V7' pattern we want to exploit in a chord state. Recall, they're broken arpeggios in the exercise, and the goal was to get this sound rooted in your ear through repetitive motor conditioning. It's a pattern you hear in Rock (think Doo Wop), ballad (think "Heart and Soul," "I Can't Get Started," "Why Do Fools Fall in Love," etc.), and tons of other pop music.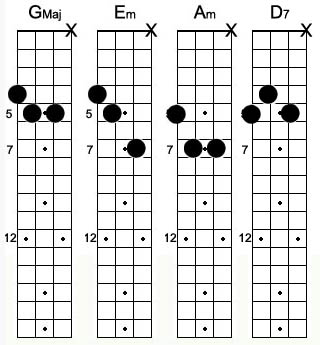 These are great for economy of movement. You may have learned other inversions, but this combination works well because none of the chord members every have to move more than a couple frets. Once they are comfortable, try moving down two frets for the key of F (FMaj Dm Gm C7), and up two frets for the key of A (Amaj F#m Bm E7). Of course you can go in between for F#, and Ab, as well as move the patterns all the way up the neck until you run out of frets (or good, clean tone).
Tackle another inversion: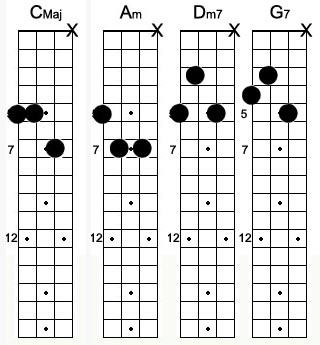 Again, a simple economy of motion, and an opportunity to move down two frets for BbMaj, up two for Dmaj, the keys in between, and as high up the frets as you want. The third: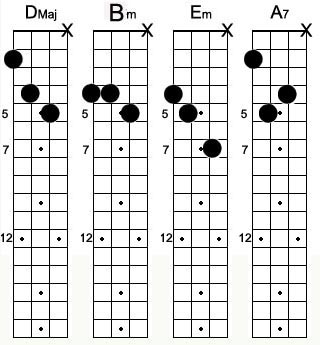 You don't have room to move this down more than one fret unless you use the open strings, but you certainly can move the blocks on up. You're probably wondering why we haven't used more m7 for the minor keys, and this decision was arbitrary. Feel free to add and subtract the 7th chord of these (i.e. GMaj7, Am7) at will; the function will still be the same.
This gives us the excuse to introduce a "color" version of the 'I vi ii7 V7' 3-note chord blocks. Don't worry about the theory if you don't want to, just bask in the radiance of the sounds of these chords: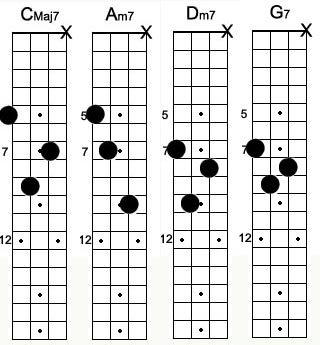 You have even more range to move this around. You can even move any of the four blocks across a string if you don't mind a more treble sound. The only problem in comping is sometimes you can interfere with the soloist playing in his/her register. Be sensitive to that.
Enjoy these? You can also implement them in areas that are more static. Let's say you have a four bar pattern C C G7 G7. You inject the Am7 and Dm7 and play C Am7 Dm7 G7, and everything should fit nicely. Use them to expand areas of harmonic "wilderness."
Here's a printable PDF you can use for reference:

'I vi ii7 V7' 3-note chord blocks

Further
Vamps. Creating energy with Diatonic triads
Vamps. Expanding the Diatonic triads
Vamps. Minor modal
Static Changes: Connecting Chords
7th Chord Streams. Under the hood

Posted by Ted at January 17, 2013 6:15 AM