« Vamps Lessons on Mandolin Cafe | Main | Cafe Interviews »

October 4, 2012 | Touchdown: "Mandolin for Dummies"
"Don't never go full Dummy."
Paraphrase, Robert Downey Jr, Tropic Thunder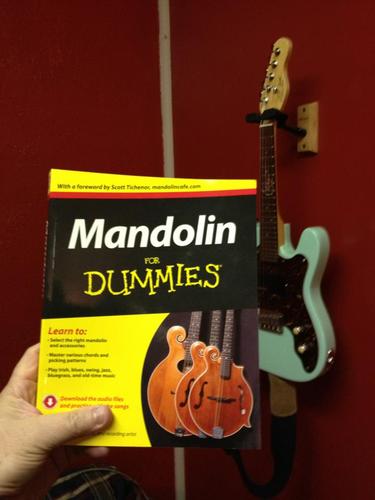 Okay, it's a rough paraphrase, but also a touch of irony that scholarly material, about anything out of The Dummies lifestyle books could be so helpful. Each book is intended to be a bridge for the uninitiated, a trip somewhere down the path of expertise, and Don Julin's entry "Mandolin for Dummies" proves no exception. We ordered our copy in July, and are happy to have it in hand.
We've got nothing but praise for the hard work put in covering such a wide variety of topics related to the mandolin. History, instrument physiology, playing techniques, music styles, and a heaping boatload of references and external resources. Julin's ability to be comprehensive, academic, but still bring it all to a street-savvy, real-world sensibility is impressive. 378 pages to cover all that's mandolin? Not an easy chore, but the upper midwest US native was definitely up to the task.
Though tightly organized book should be approached like a method book, rather the reader should feel free to encyclopedia to skip around chapters and dig out information in smaller doses over a long period of time. Definitely something to keep permanently on the bookshelf. Most of the information is more "contemporary," not so much of the three centuries of the instrument, but that's not the purpose of the book. The "Dummy" approach means any mandolinist, even if he/she doesn't own an instrument yet can find something useful immediately. Songs are available in traditional and TAB notation, photos show clear playing and handling techniques, and greyed-out trivia paragraphs take interesting side trips into the periphery of mandolinning.
We had the pleasure of posting an interview with the author last month. You will find the process of tackling a project as vast as this intriguing, so take the time to look under the hood. It will help you appreciate the book even more.
Mandolin Cafe: An Interview with Don Julin
Purchase link: Mandolin for Dummies
Further:
10 Questions For Don Julin
The ii-V-I chord progression Part 1
The ii-V-I chord progression Part 2
The ii-V-I chord progression Part3
Posted by Ted at October 4, 2012 8:12 AM