« V7 Melodic Patterns | Main | Best of JM: Cataloging Bad Tone »

March 31, 2011 | Best of JM: Clear tone in between the dots
The weekly "Tips and Tricks" column will be on a temporary indefinite hiatus while we finish up a book project. Meantime, enjoy the popular archive material below.
From August 24, 2007: "Clear tone in between the dots"

---
Listening to amazing players like Chris Thile, Evan Marshall, and Mike Marshall, it's always mind-boggling how they produce clear, bell-like tone in the upper frets of the mandolin. Not only can they play fast, each note is clean and rich with tone.
This is hard for beginners and even most intermediate players, getting a pleasant sound (let alone at high speed) requires a lot of dedication, and not everybody is willing to work at achieving it. We suggest taking advantage of a previous FFcP exercise for tackling this, the FFcP Chromatic Mastering. The concept is simple, you start with 1st FFcP on one fret, do the 2nd FFcP on the next fret up, the 3rd FFcP one up, and the 4th FFcP one more. Though we designed this to start on the 3rd fret (or 3rd position), if you really want to put it to use, start on the 7th fret, and play "between the dots" of the 7th and 10th frets. 1st finger on 7, 2nd finger on 8, 3rd on 9, and pinky on 10.
Start Slow. Play slowly, and continue to play slowly. (Did we mention you want to slow this down?) The goal here is tone. Work these starting on both the G and D courses and be conscious of this tone checklist:
Start cleanly. Each pick stroke should enjoy the fruits of a well-place fret finger. The sweet spot must be confident and secure. No fracking; each note must be the most beautiful note you've every played in your life.
Sustain forever. If you've done your job starting the note, this is exponentially easier, but you want to keep the tone alive as long as you can. A healthy pick stroke helps, but keep the fretting finger there as long as you can before the next note takes over.
Anticipate subsequent notes. This is a timing thing, but you want to be sure you are ready for the next note, meaning your hand needs be in position to roll or barre for the next clean, secure sound.
If you can do these at slow speeds, eventually you can handle it fast. The converse is simply not true. Plan on spending a few weeks on this. You'll be amazed at how much better your voice will be in this register of the fretboard.
Download: Chromatic Mastering PDF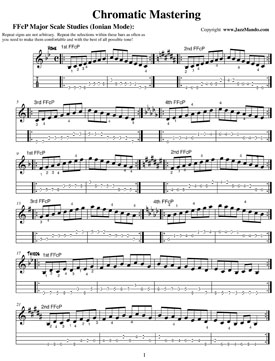 Review Practice Tips: FFcP Chromatic Mastering.
Posted by Ted at March 31, 2011 7:42 AM