« Under my thumb | Main | Doo Wop and FFcP: 'I vi7 ii7 V7' »

December 18, 2008 | Shelby Eicher; TAB and audio for "Christmas Time is Here"
We have a Christmas treat for you from JazzMando Oklahoma correspondent Shelby Eicher, a clever rendition of the Peanuts cartoon classic, "Christmas Time is Here." Serving as Director of Education for the National Fiddler Hall of Fame (NFHoF) whose mission is to "establish and maintain a permanent National Fiddler Hall of Fame, to develop and promote public interest in old time fiddling, and country and bluegrass music," semi-retired Eicher invests his time in school outreach programs with school assemblies and live demonstrations, along with organizing training programs, fiddle camps, fiddle tours, concert series, and fiddle competitions.
Obviously, Shelby's main background is fiddle, but as a rabid Western Swing aficionado, he's taking to the 4-string plectrum, and in this case a jazz Mandola, designed and built in Tulsa around 15 years ago when he was playing with Roy Clark. Shelby reports, "He completed the instrument in 2001. All of the pickups that I tried in it were inferior. I had Seymour Duncan make me custom humbuckers last year and they are great although I only have the neck pickup in at this time. I'm still undecided whether to put the bridge pickup in or not. My scale length is 16 3/4. The woods are spruce and maple and the binding is Tulip wood. The A D G C tuning is awesome for Jazz. The more I play it the more I like the way everything lays on the instrument."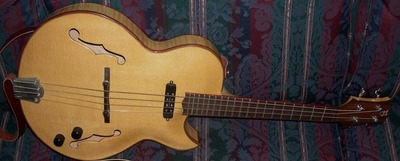 We'll be bringing you more from this amazing musician in the future, but for now, put your instrument down and warm up the hot cocoa for this favorite seasonal tune. He's been gracious enough to include some TAB outlines for tips if you want to tackle it yourself, but understand it's performed in the CGDA mandola tuning when you listen. (Of course you can still play this on mando, it will just be a 5th higher.)
Enjoy audio:

Shelby Eicher: Christmas Time is Here.
Christmas Time is Here

TAB PDF.
Posted by Ted at December 18, 2008 9:33 AM