Sorensen
"Sprite" Asymmetrical 2-point mandolin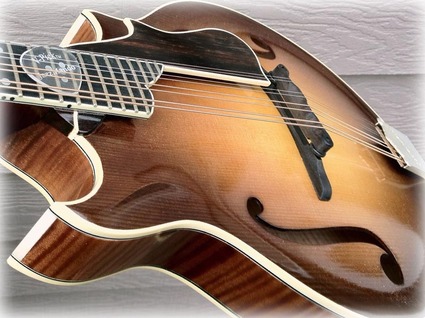 Santa Clarita, California builder Steve Sorensen hails from a diverse and creative background. From managing fine wine vineyards to writing for animated shows, he has clearly developed an innate awareness of the technical, graphic and organic elements that must come together to comfortably meld "what's out there" with "what can be there," in wood and ultimately, the sound of the instruments he is building.
We had the fortune of spending a week with one of his three signature model mandolins, a 2-point asymmetrical "Sprite." He also offers a couple F style options, his "Pacifica" and "F8," along with a jazz style "Californian" guitar. A visit to his website will show you he's not afraid to experiment with bold colors, as well.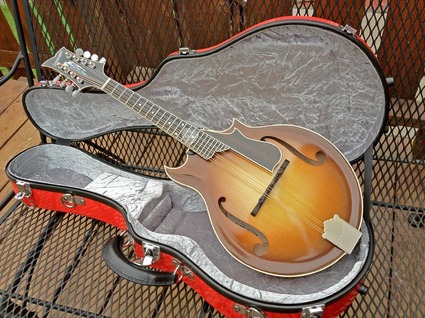 We received the Sprite in about as pristine a condition as it well ever be, only two hours of playing time in the odometer. Though already in ripe playing condition out of the case, it was ready to wake up, and a few more hours of maturing it was already exhibiting a powerfully enticing sonic potential.
First impression playing was its solid clarity and punch, a strikingly "Nugget" vibe. It had a tone and playability reminiscent of Mandolin Cafe site administrator Scott Tichenor's legendary Nugget, and we had to ask Sorensen about this. "I love Mike's (Kimnetzer) design" he replied, "I started drawing after seeing a shot of one of his that really stuck in my head. The Nugget tone, particularly up the neck, is a big part of what I was shooting for with that one. My goal was to make the flow of lines and curves even more harmonious and balanced (if possible)." We'd have to say Steve has done a masterful job capturing the character of sound, and even the easy playability in all fret registers.
The instrument's tonal clarity makes it a terrific instrument for classical playing, and it packs enough punch to hang with any premium bluegrass mandolin. What we liked most with the modern frets and gentle 12" radius is its ability to chord cleanly. Comping, especially 3-note voicings in the lowest three strings make defining more complex "Jethro" chords natural and effective.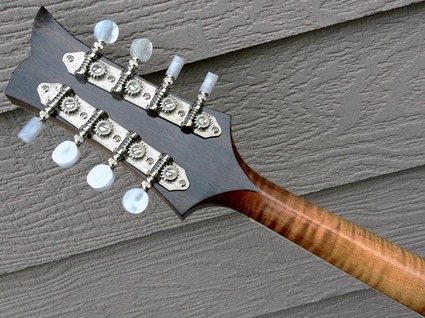 The mandolin solos well, too. A gentle prewar Loar F4 inspired "V" profile neck, it's fingerboard is balanced expertly for moving up and down frets and across the strings with ease. Clear in the highs, and warm without being muddy in the lows. Naturally, we'd recommend this for any jazzer that still wants a good all purpose "workhorse" ax, too.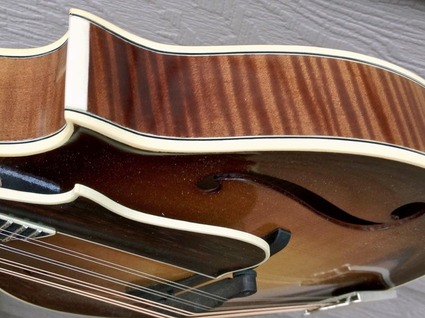 Steve had his work cut out for him on the cosmetics of this instrument. Choosing an intricate White/Black/White binding around the entire body, he did an admirable job of detailing. The pickguard is splendid and the ivory points complement an iced tea 'burst of back and front. The back headstock overlay is also one of those subtle professional touches; what is mesmerizing is the stunning headstock inlay, inspired by the great art-deco "flying goddess" hood ornaments from the 1920. Nice touch--the sizzle on the steak!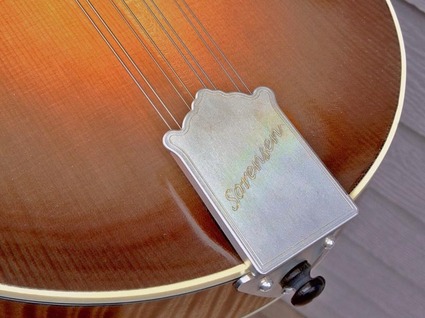 Sprite Two-Point Mandolin Instrument # 2011007 Specs
Top - Book matched Red "Adirondack" Spruce. Sunburst finish is a combination of hand-rubbed base and airbrush.
Tone Bars - vertical grain Red Spruce.
Back and Sides - Curly Maple - bookmatched
Neck - Scale length - 13 7/8". Curly Maple. 12" radius fingerboard with Jescar Silver 0.43 frets. 1 1/16" nut width and a "V" profile inspired by a pre-Loar F4. Double carbon fiber truss rod.
Tuners - Schaller silver A-style 16:1 gears
Bridge - Stewart Macdonald.
Tailpiece - Custom James tailpiece with "Sorensen" logo.
Finish - TruOil base followed by ultra-blond shellac French Polish.
The prices of his Sprite starts at a modest $2450 (current 2012). This instrument has some upgrades definitely worth considering. His craft is already pretty well-established on the west coast, but we see the full-time builder gaining ground on the national and international market.
Now would be a great time to jump in on a Sorensen.
Builders Website: Sorensen Strings
More pictures: The Instruments
Contact: steve@sorensenstrings.com
Phone: 661-345-6684
Read up on other world class mandolin builders: