« Update on D'Addario and Chris Thile on EXP strings | Main | 2014 mandolin pictorial calendar curtain call. »

January 30, 2014 | Jason Anick: Tipping Point
Jason Anick: Tipping Point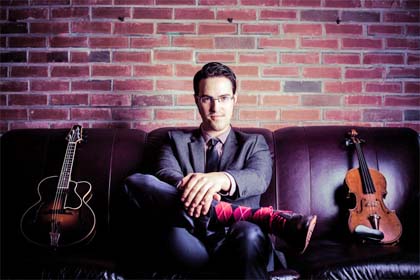 Our first brush with the young Berklee College of Music professior and string master Jason Anick was a few casual electric mandolin YouTube entries. Later we would discover the musician was already a reputable sideman, the swing fiddler since 2008 with the legendary John Jorgensen Quintet. His subsequent recording, "Sleepless" was an excellent exhibition of those amazing solo chops, but of course in our own bias, it was his mandolinning we could only be teased about in other unofficial internet video posts.
We're excited to have several spins under the belt of his newest release (scheduled 2/18/14) that includes some of the most impressive progressive acoustic and electric jazz mandolin we've ever heard. We get delicious taste of his new Arrow 5-string "Jazzbo," and is it ever sweet!
Besides the stunning chops, we would be remiss in not lauding his compositional skills, they are obvious on both micro and macro level. His original tunes are edgy but never unpalatable, and he consistently breathes fresh new life into some his standards like Horace Silver's "Peace," and a dreamy rendition of the Wood & Mellin "My One and Only Love."
His is a seamless, signature musical voice as he passes from violin to mandolin and back again. His theory prowess never trumps his musicality, and any aspiring improv musician would do well to transcribe and play though sections of his music to eviscerate the genius in them. The high powered music theory is continually chambered but intellect never betrays soul.
The ensemble cast on the project is stellar, supporting always, and occasionally staring. Very impressive piano chops of Jason Yeager, and we particular enjoyed the sax/mandolin blend (Clay Lyons and Kris Jensen), not a combination heard often. It's obvious Anick has a history of playing with some of the best.
This is a terrific start to the jazz mandolin music of 2014, and a recording that is another exponential leap in the career of one of the world's most promising young musicians.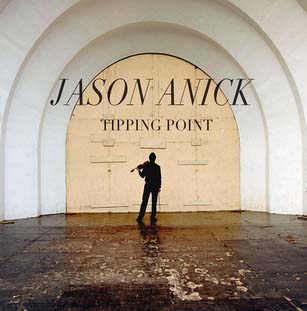 Pending Purchase information: Jason Anick: Tipping Point
Tracks:
1. Stomped Out
2. Inspiration Point
3. Maryandra
4. Minor Blues
5. Peace
6. Occupy
7. This One's For You
8. My One And Only Love
9. This I Dig Of You
10. Turnaround
11. The Night Has A Thousand Eyes
Personnel: Tracks 1,2,3,6,7, - Jason Anick: Violin, Acoustic & Electric Mandolin; Jason Yeager: Piano; Greg Loughman: Bass; Mike Connors: Drums; Clay Lyons: Alto Sax.
Tracks: 4,5,8,9,11 - Jason Anick:
Violin; Matt DeChamplain: Piano; Adam Cote: Bass; Mike Connors: Drums.
Track 10 - Jason Anick: Electric Mandolin; Lee Dynes: Electric Guitar; Greg Loughman: Bass; Mike Connors: Drums; Kris Jensen: Tenor Sax.

Read Past Interview: 10 Questions: Jason Anick
Video: "Tipping Point" - Official EPK - Jason Anick (Jazz Violin & Mandolin)
Anick on Amazon: Sleepless
Posted by Ted at January 30, 2014 10:53 AM