« Joe Egan Tenor Guitar | Main | Causes of bad tone »

October 13, 2013 | Chris Biesterfeldt; "Urban Mandolin"
One thing you probably never thought you'd hear is, "I really dug the mandolin on that Jaco Pastorius tune," but you're guaranteed to echo that yourself after you listen to New York multi-instrumentalist Chris Biesterfeldt's freshman mandolin jazz trio CD release "Urban Mandolin." His train-songish rendition of the classic 70's Weather Report jazz-fusion fave "Teen Town" is dead-on, laugh out loud accurate, and one of the freshest acoustic string jazz interpretations you'll hear.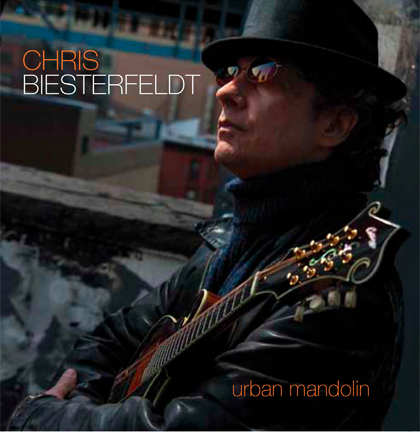 Chris Biesterfeldt; "Urban Mandolin" Release 11/5/2013
Backed by texturally scant rhythm section Adam Armstrong on upright bass and Eric Halvorson on drums, his trio delights with 16 tracks, mostly straight ahead jazz with a slight detour into some pop (Beach Boys, Bonnie Riatt), some Pixinguina choro, and a track of "switched on" Bach. The diversions make it eclectic, but make no mistake, the bulk of the project is a solid mix of bebop and contemporary jazz. Bird, Monk, Corea, Diz, you couldn't ask for a better sample of textbook trio jazz repertoire, but in this case, the piano is replaced with the capable fret prowess of Biesterfeldt on his Collings mandolin. His tone propels with rich sustain and articulation precise and confident.
Outside of the Brazilian choro ensemble, it's not often you hear the mandolin drive the energy in a band, let alone sustain it through the bulk of an hour long recording. Even in its more familiar bluegrass role, the instrument takes a back seat to the collaborative of banjo or guitar. If we had any criticism it would be the indefatigable gait through the entirety of the song manifest. The barn-burning pace in this acoustic joyride is borderline hyperemic, yet resoundingly engaging and satisfying throughout the CD.
Biesterfeldt is best known for his in-demand Broadway orchestra session work on guitar, and even some of his contemporaries like Dave Styker were surprised to discover he played the mandolin, let alone this masterfully.
"Urban Mandolin" is the jazz mandolin surprise of 2013, and we can't recommend it enough. You want this!
Tracks:
1. Bebop (Dizzy Gillespie)
2. Quasimodo (Charlie Parker)
3. Freedom Jazz Dance (Eddie Harris)
4. Bach G-Minor Presto (Johann Sebastian Bach)
5. I Can't Make You Love Me (Mike Reid / James Allen II Shamblin)
6. Teen Town (Jaco Pastorius)
7. Bright Size Life (Pat Metheny)
8. Ready and Able (Jimmy Smith)
9. Armando's Rhumba (Chick Corea)
10. Bye-Ya (Thelonious Monk)
11. Witch Hunt (Wayne Shorter)
12. Segura Ele (Benedicto Lacerda / "Pixinguinha" Alfredo Vianna)
13. God Only Knows (Brian Wilson / Tony Asher)
14. Back at the Chicken Shack (Jimmy Smith)
15. Some Skunk Funk (Randy Brecker)
16. Rollo Interior (Frank Zappa)
Purchase information:
CD Baby
iTunes
Amazon
Artist management: Jazz Promo Services
Posted by Ted at October 13, 2013 6:19 AM