« Five part series on 3-note vamp chords complete! | Main | Introducing: Clark JM5 guitar bodied 5-string mandolin! »

September 24, 2012 | Sip your coffee. Correctly now...
Yes, we made a mistake in early production of our signature 3-note 7th chord mug in the CafePress JazzMando Logo Store. A few got out before the correction (collector's items?), but the second D Maj7 chord has bee moved down to the proper frets. These really are very useful, and emblazoned on the ceramic, a terrific personal educational tool.
Sip your favorite beverage in style, and enjoy a few chords while you're at it. Major, Minor, and Dominant 7ths--you're all ready to go!
Purchase information: JazzMando 3-note Chord Mug.$15.99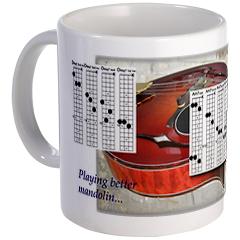 While you're there, how about a matching shirt?
Posted by Ted at September 24, 2012 5:29 AM