« Weber debuts soprano mandolin line | Main | An Interview with Don Julin, author of Mandolin For Dummies »

September 8, 2012 | Free 5-string chord template PDF
The question comes up often, "Where can I find a good resource of 5-string chords?" Outside of the JazzCittern Explorer (terrific site, by the way), little is published, especially in the print world. There's an arguable case for why this isn't available in an encyclopedic form. Chords voiced on all five strings at once don't sound that great when you start moving around. You end up duplicating voices that make the harmony imbalanced. It's also pretty impressive how full a 3-note chord can sound--with the right 3 notes. So how do you begin building your own?
The best approach is thinking a sort of "tenor banjo/mandola plus." Start chording on the CGDA side (assuming a CGDAE tuning), with the high E string being bonus material. More importantly, don't limit yourself to 4-note chords. You can do a ton harmonically with 3-note chords, and this gives you a limitless flexibility moving blocks around the fretboard. (See our recent Tips and Tricks columns on Vamps.)
If you want to document these discoveries, we've got just the thing, a blank 5-string chord template.
Start creating!
Download PDF:

Free 5-string chord template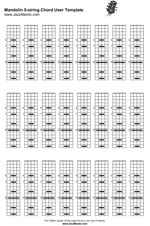 Posted by Ted at September 8, 2012 5:42 AM