« A custom mandolin cell phone case? Why not! | Main | John McGann, Julian Lage, Darol Anger, Rob Thomas- Opus de Funk »

February 28, 2012 | Gary Nava, UK Luthier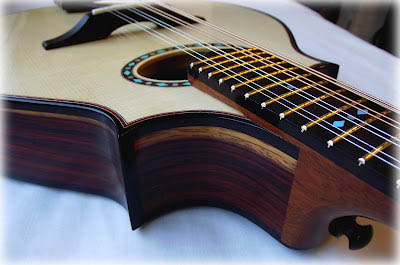 Across the Atlantic from us and a couple hours north of London in the Cambridgeshire/Norfolk Fens area there's some interesting building going on. Work from the loving labor of luthier Gary Nava is demonstrated deftly in the YouTube video below, a lovely 2-point, or Twin-point as he calls it, one of two style of mandolins he creates for his western European clientele and the rest of the world.
View video: Nava Mandolin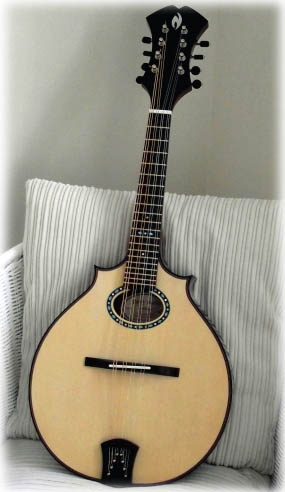 The craftsman elucidates, "There are two new mandolins--Brendan's twin point and my Standard III Brendan's is a custom build (which the vast majority of my work is) and is high-spec with a red spruce soundboard, cocobolo back and sides, pearl and turquoise rosette, Headway transducer, Alssei tuners and my own tailpiece etc. My aim, with the twin-points, is to evoke the craftsmanship and the quality of materials of a by-gone era. Brendan Emmett demonstrating his new mandolin."
In contrast is Nava's Standard mandolin, built speculatively and sold through the website. He explains, "I decided to design this instrument for those musicians who would like a hand-made mandolin but can't afford something fancy. The focus is on tone and playability with all unnecessary adornments stripped away--this means that it takes me a fraction of the time (compared to the twin-point) to build and the time saved is past on to the player as a lower price."
We're intrigued.
Follow his blog: Guitar Maker's Blogspot
Builders website: Nava Guitars UK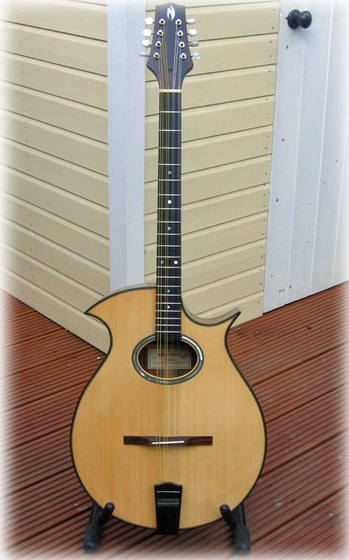 Nava Mandocello
Posted by Ted at February 28, 2012 5:52 AM