« Get better tone with a JazzMando V-pick | Main | Confirmation animated. »

August 30, 2011 | Tips and Tricks--Chords up our sleeves
We took a little time off this summer, but the Tips and Tricks section of JazzMando (over 300 articles now!) is up and running again with fresh material. Last week, we looked at previously explored material in developing mature comping skills, especially in using 3-note V7 chords. We can't stress enough how valuable these are in making all the background work you do behind a soloist sound new and interesting. It's not just playing the chords, but moving around to different inversions and patterns up and down the frets.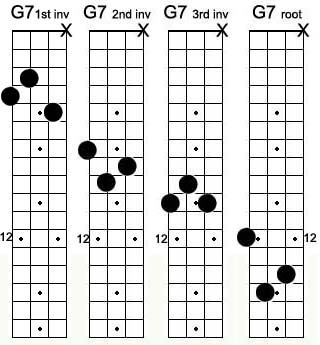 The next concept we investigate is how we can connect these chords, vertical glue in between them. One huge benefit to proficiency with these chords is the ease of moving into chord melody playing. When you use 3-note chords, you have an extra string to play melody. When you can move them up and down, you have even more access to fluid chord melody arrangements.
This can be a huge bridge for you.
Pun intended...

Review Tips and Tricks: New ways to comp with V7 chords

Posted by Ted at August 30, 2011 5:56 AM