« Chris Acquavella; cosmopolitan mandolin | Main | New Year. Resolution... »

December 30, 2010 | Winter Delays
From the CNN Photoblog website, we found this shot intriguing. Guess if you are going to be stuck somewhere for several hours, having a mandolin to pick would cushion the blow.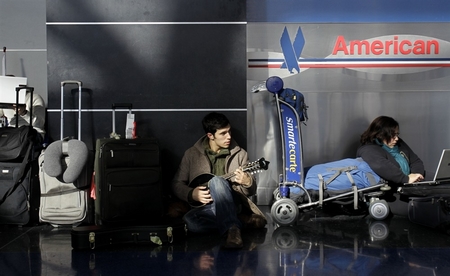 Winter storm delays transform airports into strangely intimate settings. Carissa Ray writes: "I'm sure these travelers would rather be elsewhere, but it's interesting how snuggly they're able to settle in and ride out the flight delays when faced with little other option."

We hope you made it to your destination for your holidays.
Posted by Ted at December 30, 2010 6:29 AM