« Contrasting mandolinists: Camp faculty Don Stiernberg and Dave Harvey | Main | Artsy from Clark Mandolins »

August 6, 2010 | I got rhythm. Who could ask for anything more?
If you've been to a jazz jam, you've probably hear the term "Rhythm Changes." The experienced player knows this refers to the chord progression derived from the 1930 George Gershwin classic "I Got Rhythm." What you may not know is how exhaustive the list is of well-know tunes based on these chords. According to the Classic David Baker book, "How to Learn tunes" (Volume 76), listed below is his extensive tally.
Purchase book: "How to Learn Tunes"
Review suggested chord changes for mandolin at the MandolinCafe.

---
Allen's Alley (AKA Wee), Denzil Best
Almost, David Baker
Anthropology (AKA Thrivin' From a Riff), Parker/Gillespie
Apple Honey, Woody Herman
Bop Kick, Nat Cole
Boppin' a Riff, Sonny Stitt
Brown Gold, Art Pepper
Bud's Bubble, Bud Powell
Call the Police, Nat Cole
Calling Dr. Jazz, Eddie "Lockjaw" Davis
Celerity, Charlie Parker
Chant of the Groove, Coleman Hawkins
Chasin' the Bird, Cheers, & Constellation, Charlie Parker
Coolie Rini, Howard McGhee
Coppin' the Bop, J.J. Johnson
Cottontail, Duke Ellington
Delerium, Tadd Dameron
Dexter's Deck, Dexter Gordon
Dexterity , Charlie Parker
Don't Be That Way, Edgar Sampson
Dorothy, Howard McGhee
The Duel, Dexter Gordon
Eb Pob, Fats Navarro/Leo Parker
Fat Girl, Fats Navarro
Father Steps In, Dixon/Randall/Hines/Fox
Fifty Second Street Theme, Thelonius Monk
The Flintstones, Hoyt Curtain
Fox Hunt, J.J. Johnson
Goin' To Minton's , Fats Navarro
Good Queen Besd, Duke Ellington
The Goof and I, Al Cohn
Hamp's Paws, Hampton Hawes
Harlem Swing, Nat Cole
Hollerin' and Screamin', Eddie Davis
I'm an Errand Boy for Rhythm, Nat Cole
In Walked Horac, Jay Jay, & Jaybird, J.J. Johnson
The Jeep is Jumpin', Duke Ellington
Jug Handle, Juggernaut, Gene Ammons
Juggin' Around, Frank Foster
Jumpin' at the Woodside, Count Basie
Lemon Drop, George Wallington
Lester Leaps In, Lester Young
Lila Mae, Nat Cole
The Little Man on the White Keys
Miss Thing, Count Basie
Moody Speaks (original version), James Moody/Dave Burns
Moody's Got Rhythm, James Moody
Moose the Mooche, Charlie Parker
Mop, Mop, Gaillard/Stewert/Tatum
Newk's Fadeway, No Moe, Sonny Rollins
Northwest Passage, Herman/Jackson/Burns
O Go Mo, Oleo, Sonny Rollins
On the Scene, Gillespie/Fuller/Roberts
One Bass Hit, Opp-Bop-Sha-Bam, An Oscar for Treadwell, Dizzy Gillespie
Ow, Charlie Greenlea
Passport, Charlie Parker
Pogo Stick Bounce, Eden Ahbez
Raid the Joint, Erskine Hawkins
Red Cross, Charlie Parker
Rhythm in a Riff, Billy Eckstine
Rhythm Sam, Nat Cole
Rhythm-a-ning, Thelonius Monk
Salt Peanuts, Dizzy Gillespie
Seven Come Eleven, Charlie Christian
Shag, Sidney Bechet
Shaw Nuff, Dizzy Gillespie
Shoo Shoo Baby, Phil Moore
Solid Potato Salad, DePaul/Prince/Raye
Sonnyside,Sonny Stitt
Squatty Roo, Johnny Hodges
Stay On It, Tadd Dameron
Steeplechase, Charlie Parker
Straighten Up and Fly Right, Nat Cole
The Street Beat, C. Thompson/ Robert Mellin
Strictly Confidential., Bud Powell
Swedish Schnapps, Charlie Shavers
Swing Spring, J.J. Johnson
Swingin' With Diane, Art Pepper
Syntax, J.J. Johnson
Ta-de-ah, Nat Cole
The Theme, Miles Davis
Tiptoe, Thad Jones
Turnpike, J.J. Johnson
Wail, Webb City, Bud Powell
Wee (AKA Allen's Alley) , Dizzy Gillespie
Who's Who, Art Farmer
Wire Brush Stomp, Gene Krupa
XYZ, Budd Johnson
Yeah Man. J. Russel Robinson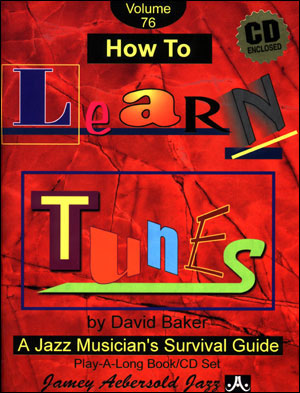 Posted by Ted at August 6, 2010 5:34 AM