« Six senses weren't enough... | Main | JM11 shipment delays »

June 13, 2010 | New from Don Stiernberg, SWING 220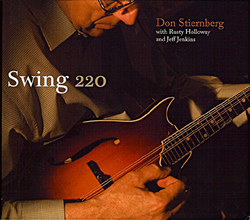 We're on our second day of enjoying an incredible audio treat, the latest from mentor and co-author, Don Stiernberg, "Swing 220," an acoustic string collection of some of the greatest jazz standards ever written. If you were to need a Wikipedia-like aural example of what jazz mandolin ought to be, it would be this project.
Joined by guitarist Jeff Jenkins and Rusty Holloway on acoustic bass, the trio sparkle with that signature Stiernberg sonic "smile," each of the tender tunes swinging hard, dripping with confident frolic. We've enjoyed everything Don has recorded, but this one stands even taller, an almost encyclopedic appraisal of the capability of fretted swing. It's more than just a Yankee Django jazz, it digs from the library of the Great American Songbook and offers a palatable, easy-to-chew experience in the 20th century jazz culinary. Sans drums, piano, and horns, you are treated to the open acoustical nuances and subtle beauty of wood, steel, and joyous space.
Strings, picks, and fingers have never sounded so good.
Songs like "All of Me," "How High the Moon," "On the Sunny Side of the Street," and eleven other classics; c'mon, how could one go wrong? Throw in a musician that has almost singlehandedly defined acoustic jazz mandolin, some incredibly capable supporting players, and you have a recipe for colossal success. This one is destined to put the artist into the mainstream ear.
Kudos to the hardest working musician in Chicago!
Purchase information: Don Stiernberg, SWING 220
Artist Website: Don Stiernberg
Label information: Blue Night Records
Tracks:
Topsy
Stardust
Do Nothin' 'Til You Hear From Me
Caravan
Limehouse Blues
Lady Be Good
Indiana
Pennies From Heaven
Honeysuckle Rose
Night & Day
All Of Me
After You've Gone
On The Sunny Side Of The Street
How High The Moon


Posted by Ted at June 13, 2010 7:29 AM