Dix Bruce
Gypsy Swing & Hot Club Rhythm for Mandolin w/CD
Inside: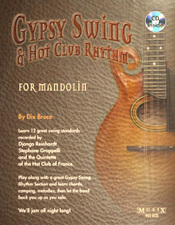 Introduction to Gypsy Swing
How to work with the book and CD
Swing Guitar Rhythm
Avalon
The Sheik of Araby
Some of These Days
After You've Gone
Baby Won't You Please
Come Home?
Swing in Minor
Chicago
China Boy
St. Louis Blues
Rose Room
Dark Eyes
Swingin' Like '42
For many Folk and Bluegrass mandolinists, the idea of crossing over into jazz and swing is both intriguing and daunting at the same time. Even at JazzMando.com, the complex theory and vocabulary of extended chord voicings and variations swirling midst meandering tonalities is not quickly adapted or internalized. This is why when books like Dix Bruce's "Gypsy Swing & Hot Club Rhythm for Mandolin" come along, we feel its "bridgeworthiness" is worthy of a shout out.
Not everyone is ready for a Bb13(#9) or rapid fire 'ii V7' chromatic modulation successions, and for some, "Bebop" is something you spray on your geraniums, not some bewildering art form for guys with berets and goatees. If you're in that frame of mind, or you just need jazz vocabulary a bit more bite-sized for the moment (hoping to cultivate a jazz interest into more challenging Coltrane and Parker later), this book will be what the doctor ordered. Even Django Rheinhardt himself is arguably not as well-known for his later cerebral Bebop years as much as the more mainstream 30's & 40's acoustic swing.
The book contains 12 great swing standards popularized by the six-string jazz patriarch, swing fiddle partner Stephane Grapelli, and their legendary Hot Club of France. It includes both standard and tab notation, suggested chord fingerings, some relevant history, and helpful interpretive commentary for each of the songs.
The backing CD alone is worth the price of admission. Where else are you going to get the talents of guitarist Jason Vanderford, bassist Steve Hanson, and guitar/mandolinist Dix himself, as close as your CD player or computer? The recording is clean accompanying arrangements, indeed not mystifyingly complex, but very musical and quite typical of what you'd find in most Gypsy Jazz jam sessions.
Included in its 40 pages are some practical audio tips; each song has a slow version to introduce the tune before a full-fledged band version. Song selection is adequate for a healthy taste of Django, and you're likely to do at least one of them at any given jam.
Dix introduces some chord fingerings and one caution; we're not as wild about some of the more "bluegrassy" suggested variations that double the root (as in a Monroe style G-chop, DGBG) or 3rd of the scale, especially in a three-note chord (where G7 is voiced BFB). In his defense, however, there's merit in that these will be more familiar terrain to the hardcore bluegrass enthusiast. Consider them a toe into the pool of the genre, but as the tunes become more familiar or should you progress into more contemporary chord extensions, you will definitely want to expand into some other 3-note chord voicings.
All in all, this is a wonderful resource for any budding jazz or gypsy mandolinist. It's a great introduction for the beginner, and a more advance player can always use the fabulous CD for working up both soloing and comping skills.
Publisher Website: Musix
Also available for guitar, Gypsy Swing & Hot Club Rhythm for Guitar w/CD
From the MusixNow website:
Dix Bruce has performed, recorded, and taught in the San Francisco Bay Area for over twenty years in a variety of bluegrass, new acoustic, country, swing, big band, and jazz formats. He has authored over thirty instructional books, CDs, and videos for Mel Bay Publications including originating the popular BackUP TRAX play-along series for learning Old Time & Fiddle Tunes, Swing & Jazz, Traditional Jazz, and You Can Teach Yourself Country Guitar. He has taught at many music camps and workshops. Using his vast experience playing swing & jazz music, Dix has developed classes in swing guitar which include instruction in chording, rhythm, leads, and improvisation. His multi-style experience bring a depth of understanding to students and his relaxed and light teaching style allow everyone to have a good time while learning.
Purchase information: Gypsy Swing & Hot Club Rhythm for Mandolin w/CD