JazzMando Rigel Custom Gallery
Check out the fun options you can have with a Rigel instrument of your own. These pictures are a testament to the creativity of our customers as well as the strong desire to embrace the innovative modernity of the world-class craftsmanship at Rigel Instruments.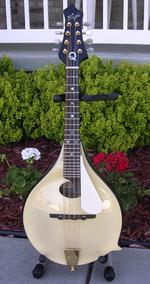 Color
It all started with Blue-burst. Having purchased a tobacco-burst CT-110, the site author thought rather than be trapped in tradition, and strap on a tribute to a cancer-causing agent, he took advantage of Rigel's premier finishing services (they do incredible restoration on some of the finest old and new instruments) and sent it back for a trend-setting Blueburst finish.
Pictured are the author's CT-110, as well as several other custom CTs sold through JazzMando...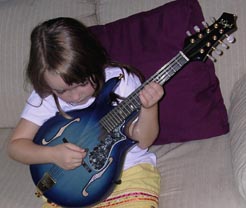 This one had a fabulous Birdseye Maple back:





This started a trend, as the next NAMM show featured a table full of blue instruments at the Rigel Booth: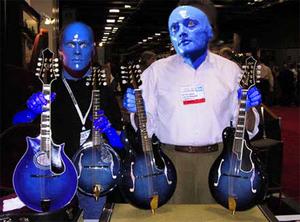 Two blue are better than one: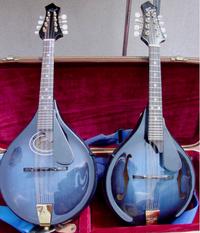 Burgundy-burst is probably our second most popular "alt" color. This fabulous G-95 featured a BB back and sides, with a blackface top: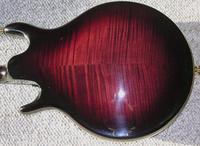 We did a another one for a customer who requested the same color combination, but added a tasteful Shamrock inlay on the headstock, with green abalone inlay.
In October of 2004, we designed and prototyped the currently popular Q-95, the "Gypsy Q." Originally, the two stock colors were to be the "Espresso con Pana" (espresso-burst back and sides with cream top, tortoise pickguard) and the "Doppio con Zucchero" (espresso-burst with white marine pearl pickguard).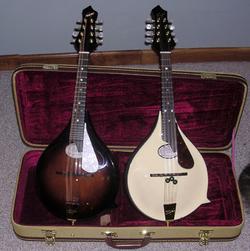 As you can see, our creative clientele had some other delicious ideas:



(White Chocolate!)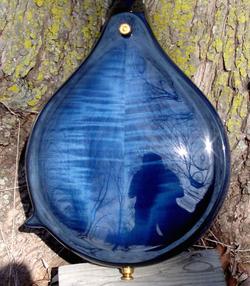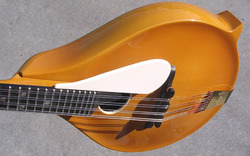 Much can be done in special fretboard inlays. We've sold several with the block inlay, and you can always add a custom color pickguard, limited only by your imagination.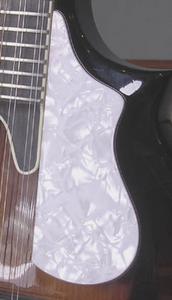 Or, if adventure isn't your thing, you could still go with one of the many exciting standard options!