Paris Swing
MS-130 Samois Mandolin
Natural (blonde) finish with tortoise-shell binding
NOTE CHANGES TO 2007 MODELS. Read: update
Caveat:
Context is everything. As we showed our sample MS-130 to other discriminating players, we felt compelled to mention street price upfront. The cadre of instruments reviewed in our
New Models Spotlight
starts
at a purchase price three to six times these. The
Paris Swing
mandolins are a bold step out in design and cosmetic feature; most competitive traditional shapes don't dare tread convention. These, however, have the potential of creating their own...
A Good Impression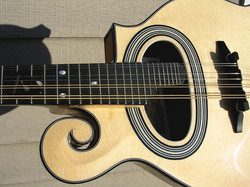 Let's address what we like first, and save the "picking of nits" for later, noting the economic reality that at a street price in the lower 6 bills could never yield the professional nuance and feature of an instrument tenfold the price.
Paris Swing design engineer Greg Rich has successfully captured the romance of a unique and convincing Gypsy Jazz vibe. Though everyone knows Django Rheinhart was not known to hire a mandolinist as a side musician, that doesn't stop the current generation of builders and players forging ahead with our own. (JazzMando has done it in our cooperative project with the Rigel 'Gypsy Q' Q-95, albeit at a significantly higher price point.) Tuned like a Gypsy Fiddle, and strummed like a guitar, why shouldn't the mandolin find a place in French Gypsy Jazz ensembles throughout the world?...
Three sound-hole options and two finishes yield a total of six models to select. The wide mouth D-hole, vertical Oval-hole, and a more traditional F-hole come in a choice of natural or sunburst finish, the latter adorned with a grained ivoroid binding. We chose to review the wide mouth to fully embrace this French vibe, providential for us, as this distinctive hole pattern produces very big, natural open sound.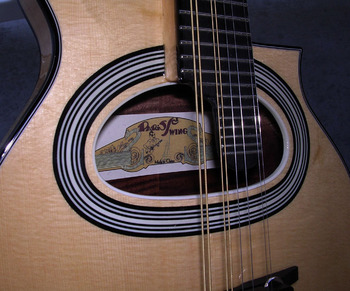 Beautiful like the rings of Saturn, the D-hole is surrounded by concentric rows of bold "inlay," perhaps "overlay" is more accurate, but the effect is compelling. Were it not for the clever extra effort to stain the inside of the hole, this eccentric gap might be overwhelming, but the impact is every much acoustically beneficial as it is aesthetic. This combined with the solid Sitka Spruce top and AAA flamed maple back and sides put out a big, warm, and convincing sound.

The poignant swoop of line accentuated by the tortoise binding, the powerful scroll ridge and curl, and exaggerated flat cutaway give this line of instruments a glorious and inimitable identity. Not content to be another F5 knock-off like other product in its price range, it dares to be its own "orthodox."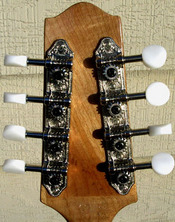 We should mention this instrument was not ready outside of the box. Like most import instruments, we highly recommend the hand of a qualified tech to adjust nut, accurately set bridge placement, and of course immediately replace the stock strings with those manufactured this side of the Pacific. You'll want to purchase these from a store that can offer this kind of service, as well as follow-up with any warranty concerns, particularly the tuning buttons. Though the plastic was flimsy to the touch, we must mention the metal is superlatively smooth, allowing accurate fine-tuning without the annoying "play" you can find even in much more expensive machines.
(Click pictures for closer look)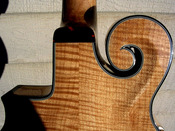 We like the Tortoise Heel binding. The it may not be everyone's cup of tea, but to us, it brings the sillouhette of binding to a common junction. Also the headstock on this particular had a pleasant side masking overlay, another of the many "above and beyond" detailing rarely found in an instrument in this price range. Embracing the latest in Asian manufacturing technology, the Paris Swing logo and sheer abalone "inlay" are a sparkling and convincing effect.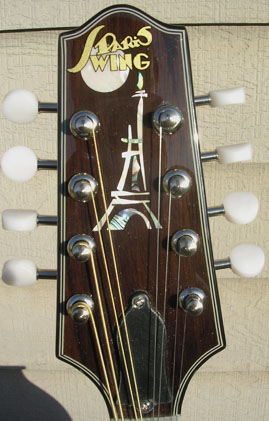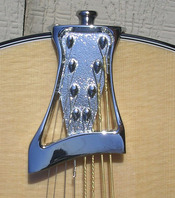 Our bias against the traditional covered tailpiece was readily answered in their proprietary design. It is both functional and aesthetically pleasing. We will always prefer being able to just slip a loop and crank. There are simply a lot of cool accouterments to the Paris Swing.
Nits:
Again, in the "You get what you pay for" department, let's understand you will not have the inviting fingerboard of a higher priced instrument. No suprise, fret edges and fingerboard are routinely ragged in comparison to more expensive product. Thinner width will challenge the player at home with radiused fingerboard and thick frets, possibly making playing a bit more fatiguing.
Also, the $799 retail (street less) does not include case. This can be an issue in that the standard scale but shorter neck to body ration makes most conventional F-style cases unworkable. Likely a rectangular case with some adjustability will work, but your dealer will need to help you out with this.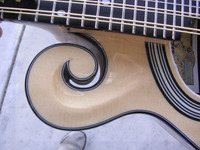 Conclusion
Bang for buck If a $600 (+/-) street price is all you can afford in a mandolin, this is just as good (arguably better) than anything out there in this range. If your tastes are more refined, this is still good enough to own as a novel auxiliary instrument. Sound and tone are good, playability arguably acceptable, but this ax kicks out a serious vibe de nouveauté.
Nous recommandons!
Paris Swing website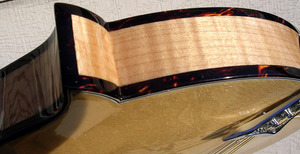 Check out the new "Dogs Playing Mandolins" Shirts in the
JazzMando Merchandise Center:
Swingwear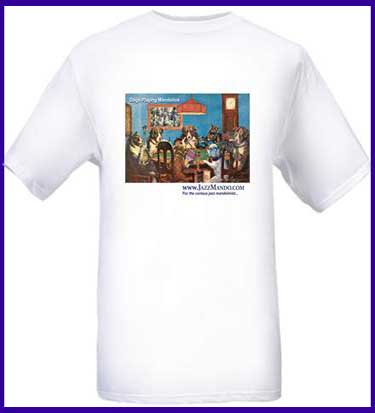 Sometimes you just throw all caution to the wind and go out to the porch and pick.
Have you read our "
Tips and Tricks
" column lately? We update this section every three to five days with FREE helpful hints. Visit and bookmark in your web browser JazzMando
Tips and Tricks
. (Don't forget to get caught up on the Archives at the bottom of the page!)