Orien MacDonald

Model-O 'F', Model-O 'Shoulder O'
(Click all pictures for close-up)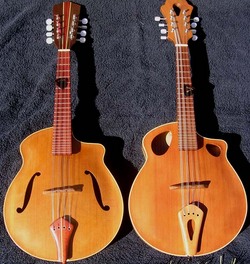 We always get excited seeing a mandolin builder think outside the box; especially when his/her sense of line creates a radically new and unique signature look, as in the work of New Mexico luthier, Orien MacDonald. A history in Blacksmithing, Bowyery, and building bicycle frames is not exactly the path of your typical luthier/builder, but when you look at the end results of MacDonald's work, it all seems to tie in. The mastery of tactile creation and handwork, the physics of archery, even the efficient ergonomics of cycling are relevant to the molding of artist and his craft; seeing the instrument first, obseving the gestalt within the background of the artist, we start to "get" Orien MacDonald, pragmatic builder, eccentric designer...
Starting with a somewhat traditional archtop guitar shape body as a foundation, he's experimented on the Model O series with a multitude of facets of the instrument, from the F-hole, bridge, tailpiece, headstock, neck and neck reinforcement with some intriguing results. We had the privilege of reviewing two of his mandolins, the F hole and the O (shoulder) hole. Both have inspired a wealth of discussion.
On his website you will witness some of the other instruments with this silhouette "template," including Guitars and Acoustic Bass Guitars, but as a cellist by training, he has an even broader experience with string instruments to pull from and nurture the innovation. Most of them modern in design, the 15 plus mandolins he has crafted also include some Renaissance-style similar to a Gibson A-style. For a while his experimentation included carving backs from a solid block, with non-perpendicular sides, as well as some solid- and semi-hollowbody electrics. His first love remains acoustic instruments.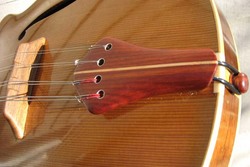 A striking feature on the two we reviewed is the violin/cello style tailpiece hanger. Orien reports, "The unusual tailpieces I guess are an archtop guitar as well as violin family influence. Most of the mandolins I made up until these two have used the usual Gibson style tailpieces, but they never did much for me appearance-wise. These look more interesting to my eye, plus I think the less rigid attachment, with flexible rubber-coated tailgut instead of a fixed metal bracket, improves the sound a little." You will also see from the pictures his bridge deviates from the adjustable wheel/thread insert for maximum tone. He defends, " I use a somewhat tall, one-piece bridge, drilled out on the underside for weight reduction. It weighs less than 1/2 of traditional ebony, adjustable bridges. A light, stiff bridge ensures that as many of the string's vibrations as possible are transmitted to the body."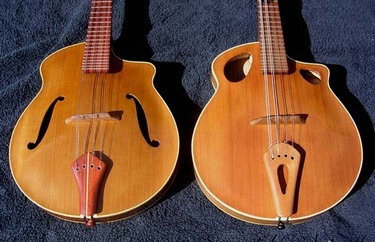 Both instrument tailpieces came with 4 holes with a metal insert to hold loop end strings strung through themselves. While this is undeniably a cool look, they were a major pain to change; perhaps we needed a better trick, but it would be interesting to see if this has any effect on the longevity of the string. The "sawing" they go through during installation can't be good for them or the rivet/inserts. Nonetheless, none of the strings broke during the three weeks of testing. If nothing else, his flair for the unusual with the three piece Maple/Bloodwood/Maple on the F, and Cherry with elongated teardrop hole makes for a profoundly eye-catching panache.
On the subject of woods, MacDonald is quite tenacious in his convictions of customizing each instrument for the player and his/her individual needs. Deliberating on his website, "I feel that the process of building a custom instrument should be a collaboration between the maker and the customer. After all, it will be your instrument! I will try to use any ideas you may have, and try unusual things if needs dictate. While not every unusual modification will work, I will collaborate with you on your custom design to come as close to what you need as I can. And like every person and every tree, in the end your instrument will be a unique individual!". This is quite obvious and demonstrated in the selection of unusual woods for these "fraternal" twin instruments. Reviewing them, the F-hole edition: Red Cedar top, Peruvian Walnut back and sides, Black Walnut neck W/Carbon fiber reinforcment, Bloodwood fretboard and tailpiece, maple trim. The Shoulder O model: Redwood top, Black Walnut back, sides, and neck, CF reinforcement again, Ipe Fretboard, Cherry tailpiece and headstock, "vintage" cream plastic binding.
The topic of finishes is important to him, insisting on non-toxic materials. French polished shellac, unlike the popular standby nitrocellulose lacquer, fills the bill, and makes for a thin finish with optimum acoustical properties. It is the traditional finish on classical guitars, where sound is at a premium. The "aethetics" of this kind of finish are arguable; a high-gloss nitro or varnish is currently the industry standard, but we see many builders in the last 10 years making a switch to something safer and more environmentally responsible. The jury is out whether the duller look of this (or satin) will continue to increase in market preference.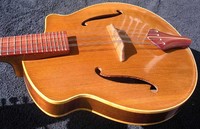 F-Body
The two instruments reviewed obviously varied in the hole shape and placement (F vs. Shoulder 'O'), but there was another significant variable that made the F harder to review. Orien prefers what he describes as a personally preferred "impossibly high" action (must be the cellist in him), which was more of a challenge to assess. A flat fingerboard (we are biased to radius) and perceptively wider was quite fatiguing playing for the JazzMando wimps over time. That said, a player who prefers high will also appreciate what we discovered, that these are loud axes that really cut. Particularly the F hole, with what one would expect to wield a sharper tonal "edge." (More on the 'O' in a moment.) Perhaps the selection of cedar for the top is partially responsible as well; as both instruments have walnut back and sides. It could also be the higher action forces louder playing. We didn't experiment with anything but the round wound nickel steel strings shipped, always something that should be factored in an audition.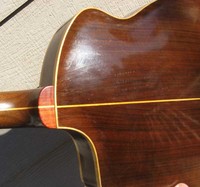 The line in the back was a bold design move, but in picking nits, we'd point out that a builder runs a risk of such "exposing" cosmetics when the line isn't absolutely perfect. Granted this is hand-made, not some machined-stamped, laser-sliced CAD manufactured instrument, but when a line from endpin to headstock like this is only 99% and not perfectly continuous, as well as through three-dimensional levels, it probably distracts the eye more than pleases. Such precision is a near impossible chore, and an unfortunate imperfection detracts from an otherwise appealing frame. Still MacDonald offers the subtle charm of a true hand-made mandolin. This is a little more obvious down the neck, and it may be the variety of woods that perceptively breaks the line.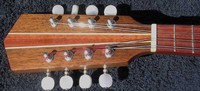 Speaking of lines, another bold chance he took that we enjoy is the headstock overlay. Contrasting/competing woods (depending on your perspective) isn't everyone's cup of tea, but we think it's a real eye-catch.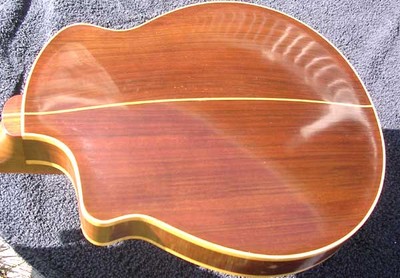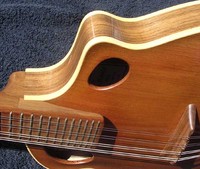 Shoulder O
Initially, this was the most visually stunning of the pair. Marching to the beat of a different drummer, MacDonald's O holes are not front and center under the strings, but up into the shoulder of the instrument. As this is not a critically resonant area of the top, it's a benign structural threat; after putting it through its paces, we can't really say how much placement negatively or positively affects over-all tone. It is undeniably eye-catching and we applaud the daring statement. One concern we had visually, however was the use of a two-piece block in the neck above the top. Unsure of the structural reasons, we ponder it might be a stable and an efficient way to install the Carbon Fibre reinforcement rod but the mix of woods and break of line at this bottom side-up angle is not as effective aesthetically.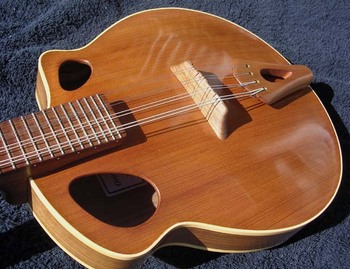 Moving on down the top, we see a third visual "opening," the hole in tailpiece which is an innovative complement to the body holes. Again, we aren't wild about the functional stringing aspects of the four holes, but the tailpiece is if nothing else, and optical treat.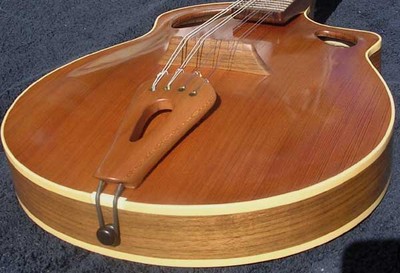 Along those lines (pun intended) the vintage white plastic binding also stimulates the eye, defining edge and separating some very attractive but divergent wood. It intensifies an the unique look, an inimitable builder's defining signature, and the Model-O "Brand."
On the topic of holes and interesting line, look no farther than the headstock to see an adventurer's eye for the unexpected. Though a conscious choice to avoid a graphic inlaid symbol or inlay, there is again, an incredible branding going on here, as well.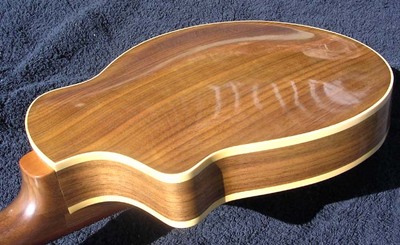 The back of the Shoulder O is as vibrant aurally as it is visually. An exceptional chunk of Black Walnut, it also requires great care in avoiding stifling holding the instrument too close to the body so as to stifle tone.
Nits.
It's hard to be critical of these astonishing instruments, there is so much positive to get excited about. We already mentioned a concern of some of the detailing. The joints are not as immaculately clean as we've seen in other premier builders. The use of 9th fret dots (should be 10th) are a colossal personal pet peeve, and on the F, we would have liked to see more contrast in the side dots. That the fretboard is devoid of markers is a moot issue and individual aesthetic choice (we've always pegged them as necessary as a human tailbone), but in a low light the side dots are nearly impossible to detect. We mentioned the more personal taste issues of flat vs. radius, and high action, but that could be adjusted to the end user. We did change the strings on the Shoulder-O to the JazzMando flatwound, and Orien did lower the action on this instrument prior to shipping. This made quite a bit of difference in our testing (let alone to a customer's personal preference).
Conclusion
We really dig what Orien MacDonald is doing. Many of his ideas, if they don't break tradition, at least dig up old traditions not as commonly used today. Some of the chances he takes could possibly backfire on him longterm, like the tailpiece hanger or the perceptible hodgepodge of woods. We give him a ton of credit for being bold enough to think and create out of the box and give the world not only a great sounding mandolin, but something to get excited about as well.
---
More info...
Builder's Website: Model-o Mandolins
Contact: Orien MacDonald



---

Read up on other world class mandolin builders: