« April 2008 | Main | June 2008 »

May 30, 2008 | Get a Grip
These week's Tip and Tricks entry is the inaugural contribution of an industry legend, Mark Wilson, the brain-trust behind the world famous Intellitouch Tuner, so many have grown fond of the past decade. Mark's 30 years as a full-time professional bassist has taken him to work with Roberta Flack, Dianne Carroll, The Fifth Dimension, Mac Davis and others, and because of his recent discovery of the magic symmetry of the mandolin fret board, he's recently signed on as JazzMando Research Contributing Specialist. We are very blessed to have his incredible insights, and after you read his article "Grip #1," you'll see what we mean.
Stay tuned.
Sorry, couldn't resist...

Read this week's Tip: Grip #1
Visit Intellitouch Website: Onboard Research
Posted by Ted at 02:42 PM

May 28, 2008 | Fernwood "Almeria"
MySpace.com can truly be serendipity. Such is the case with our recent discovery of "Fernwood" a composer/performing team of cinematic musicians who not only write superb film scores (and are in demand internationally), they perform and record mostly on plectrum instruments. Wood and strings!
Read through the laundry list of ethnic and exotic instruments: Irish bouzouki, sitar, acoustic guitar, mandolin, tenor banjo, Greek bouzouki, Chinese ruan, harmonium, oud, cumbus, gimbri, rababa, bulbul tarang, jal tarang, dilruba, dotara, gopichand, upright bass, and Rhodes piano.
It's like something you'd expect out of a visit to some Haight/Ashbury music store...
The team of Todd Montgomery and Gayle Ellett are constantly exploring new areas of acoustic music. We've had the opportunity to review their latest project, Almeria, and couldn't wait to share it with you. This is guaranteed to expand your preconceptions of what plucked instruments can do...
Read Review: Fernwood's Almeria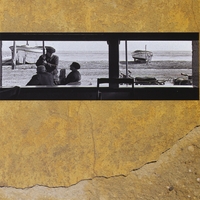 Posted by Ted at 10:18 PM

May 26, 2008 | Tips Archives
Have you been keeping up with our Tips and Tricks section? Every Thursday morning we've been assembling notes and research in the JazzMando lab, and occasionally report some nuggets of wisdom contributed by our very smart friends. We've tackled subjects like music theory, effective playing concepts, improvisation, cognitive processes, listening skills, really quite a myriad of bite-sized mental morsels to make your playing more enjoyable. Might be fun to go back a few years; catch some tips you might have missed earlier.

Take some time to dig through the archives. If you have questions or issues you'd like covered, feel free to submit them through our Contact Form.

Tip Archives

Posted by Ted at 07:48 AM

May 24, 2008 | It's Obvious, Now; Eva Holbrook
New from the provocatively talented young Colorado mandolinist, Eva Holbrook, her latest EP "It's Obvious, Now." The prolific composer, singer/songwriter, and master fret techncian has crafted yet another music project beyond her years. The six song collection forages new ground for the mandolin as her Weber Acoustic supports her deeply introspective and personal lyrics, and her 4-string Schwab Electric complements with R&B prowess, a machismo conviction that betrays her curls.
While this brilliant musician tackles some technical studio processing wizardry, underneath it all is dynamic, raw ability. The etheral reverb, delay, distortion of her electric is part of her artist palate, not an empty substitute for talent as is so common in today's pop music. This nineteen-year-old (Happy Birthday, Eva!) continues to think and play outside the box. The mandolin world would do well to take note.
Eva begins her midwestern summer tour this month, and we're certainly looking forward to seeing her and her family in our area very soon.
Artist MySpace Page: Eva Holbrook
Preview and purchase EP: It's Obvious Now
Previous JazzMando Review: The Very Last Dream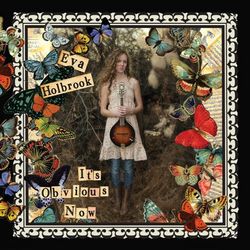 Posted by Ted at 06:33 AM

May 22, 2008 | Cherry Cola-burst JM
Hard to contain our enthusiasm, let alone anticipation of the new Clark JM, barely two weeks from shipping. If you've been tracking the progress along with us, you know we've settled on a Cherry Cola-burst finish on the flagship signature JM (JazzMando) model.
As you can see from the picture, it now has its skin, and all that's left is the painstaking attention to detail Austin is regarded for, worldwide. It's been amazing to bump into so many satisfied Clark owners these last few months, especially for so young a builder. So much for the presumption that legend always equates age.
We'll keep you posted...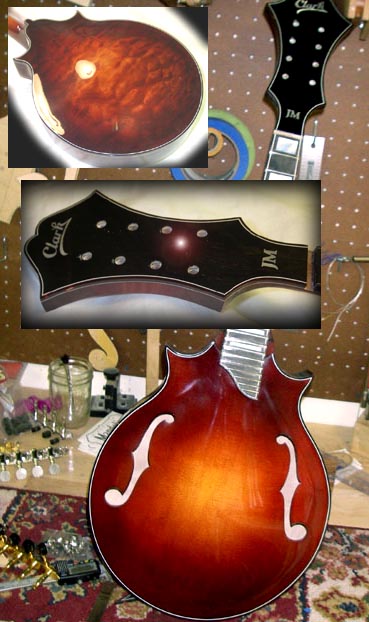 Builder's Website: Clark Mandolins
Posted by Ted at 11:44 AM

May 20, 2008 | Josh Pinkham
We first met Josh Pinkahm five years ago as a young pup in Lawrence, Kansas where he collaborated with Mike Marshall in a stunning virtuoso performance at Mandofest. The years have been kind to him, allowing the further incubation of this talent, and recently a vibrant interest in jazz. Working with Gypsy Jazz guitar great, Frank Vignola, Josh has taken every possiblity to hone his jazz chops in addition to a highly touted recent Bluegrass solo project, Solo Mandolin Duets.
What really has us intrigued is his current work with his veteran Florida musician parents, Terry (vocalist) and Jeff (guitar) in the Pinkham Family Band. They've already posted a couple of tasty tunes on their MySpace Page. Check it out; we certainly hope there is more to come!
Video of Josh with the Frank Vignola Quintet
Way to get it done, Josh!
Posted by Ted at 05:48 AM

May 18, 2008 | Jayme Stone
We've been enjoying some refreshing acoustic string jazz from a new CD this week, and of all darndest things, it's come out of a banjo player. Rocky Mountain virtuoso mandolinst/composer Jayme Stone (Boulder, CO) has concocted a smart ensemble of an eclectic cadre of musicians, guitar, bass, fiddle, trumpet, soprano sax, english horn (what th'?...), all fronted and supported by Stones warm and inviting banjo stylings. It doesn't hurt that master mandolinist Matt Flinner joins him on the incredible acoustic project.
The CD is aptly entitled "The Utmost," and the 2008 Juno Award Nominee (Instrumental Album of the Year) is intensely interesting and easy on the ears at the same time. We love Jayme's playing, but what really shines here is his compositional skills. This is clever, creative stuff. Highly recommended!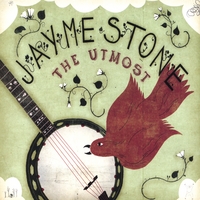 Jayme Stone's MySpace Page
Artist Website
Purchase CD: CDBaby

Posted by Ted at 06:55 AM

May 16, 2008 | Festive Wear
We always like to give a big shout out about this in the height of spring. Festival Season is a few short weeks away, and you'll need to be donning your festival wear; in particular, we suggest a stylish JazzMando "Dogs Playing Mandolins" T-shirt.
Nothing better to show your style, strut your stuff, and let everyone know just how serious you are about the mandolin.
Or not.
Purchase: Dogs Playing Mandolins Shirt

---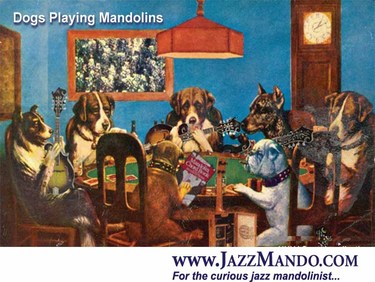 Available in S M Lg & XL, $15.00
(XXL $18.00)
Posted by Ted at 05:54 AM

May 14, 2008 | Paul Glasse. Punk.
Blast from the past, barely old enough to shave, a vintage photo of Paul Glasse and bandmates from his teenage years (2nd from right), including a younger version of Mel Bay author and banjo/mandolin/guitar/fiddle master, Gerald Jones. (right)
Paul has a busy summer with two workshops, including the June Mandolin Symposium and August Acoustic Music Camp. Two excellent opportunities to learn from one of the world's best jazz mandolinists. Paul himself interned under three of history's immortal swing mandolin masters, Tiny Moore, Johnny Gimble, and Jethro Burns, and arguably reigns as the planet's Number One Bebop mandolinist.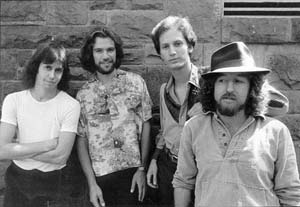 More: Paul Glasse
Posted by Ted at 05:54 AM

May 12, 2008 | Happy Birthday Tiny Moore
From the terrific online resources at MandolinCafe.com, This Day in History an important May 12th Birthday. Tiny Moore, (1920-1987) was a renowned fiddler and swing mandolin (5-string eletric) pioneer who spent years playing with Bob Wills and the Texas Playboys. Many do not know he actually had a children's television show for six years in the late 1950s/early 60's. (Talk about pioneer!)

He and his wife operated Tiny Moore Music in Sacramento, CA. One of our favorite Jazz Mandolin recordings was his two-CD duet album with Jethro Burns, Back to Back a must-have in your library.

For Moore information:
Tiny Moore
Acoustic Disc Profile
Emando Biography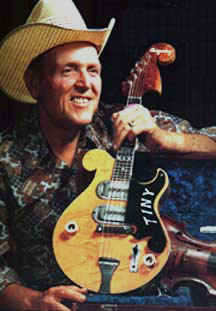 Posted by Ted at 05:27 AM

May 10, 2008 | Joe Mendel Builder
Congratulations to fellow Mandolin Sessions writer and new builder Joe Mendel on the launch of his new business, Mendel Frets. A renown Greater St. Louis area string repairman, Joe's work has been highly sought after by regional professionals, and now he's turning his attention and talents to his own creations.
Currently, he offers a line of high end Octave Mandolins, but looks to expanding into mandolas and other fretted instruments with his own signature ideas, influenced heavily by such industry giants as Michael Lewis, Peter Sawchyn, and Chris Baird. Permeating his design are three driving elements, simplicity, functionality, and attractiveness.
Best to you Joe as you pursue the best in wood, frets, and strings.
Website: Mendel Frets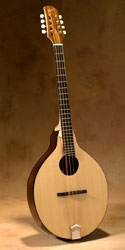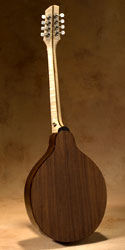 Posted by Ted at 05:38 AM

May 08, 2008 | Django Camp Extension
We mentioned a May 1st deadline for early registration in the Django in June Django Camp. The opportunity to save $50 in experiencing "a Gypsy jazz immersion experience like no other" has passed by, UNLESS you take advantage of the JazzMando.com offer for a May 10th deadline.
Now this is important; you have to mention the JazzMando Exclusive extension for this incredible New England area opportunity June 10-15. When you register, "JazzMando sent me" is your secret code. Don't miss out on this mando opportunity like no other!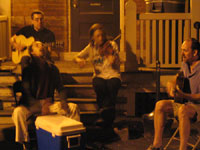 Festival Details:
Drop In
Registration
Artists and Staff
Event is 6/10-15 in North Hampton, MA.
Posted by Ted at 06:56 AM

May 06, 2008 | Latest Wail
Always great to hear from our Madison, Wisconson friend and Gypsy Jazz mandolinist extraorinaire, Sims Delaney-Potthoff. He and wife Maggie are heading for a little R&R across the pond after Mother's Day, so if you happen to see a '69 VW Camper in Scotland, and hear a little 8-string Django tuneage from an Rob Aylward Mando coming out of it, DO come knockin' if the bus be a rockin'...
Harmonius Wail's new CD is set for an August release, and the title is going to be "Resist Temptation." (Remember, you heard that here first!) They are also in the process of reworking the website, as well as thinking on down the line for the next installment of the Midwest Gypsy Swing Fest, slated for Aug 22-23.
We'll keep you posted on both.
View Website: Harmonius Wail
Posted by Ted at 07:35 PM

May 04, 2008 | Book Tracks
This week, we've been slaving away on the final mix of the accompaniment CD of the book "Getting Into Jazz Mandolin;" it's done and on the way to Mel Bay Publishing, Priority Mail. In addition to audio examples of many of the exhaustive but beneficial exercises throughout its 120 pages, we've included five fun original tunes that introduce basic jazz concepts, like using a Lydian or Dorian scale for improvisational fodder, advance blues variations, and tonal centers. They kicker is we've been able to use the gracious contributions and talents of Don Stiernberg, legendary jazz mandolin genius to record some of these tunes to show how a real pro does it.

These tracks are dynamite. Let's give you a teaser:

Chick'n Apple Scrapple MP3


Artist Website: Don Stiernberg

Posted by Ted at 01:21 PM

May 02, 2008 | Finishing up the Clark JM
With only the finish yet to be applied, we're sitting on pins and needles around here in anticipation of the inaugural mandolin of the new Clark JM Two-point series. Cherry Cola-burst it will be, although we most certainly flirted with the notion of his exclusive Clark "Tequila Sunrise-burst" finish. Rumors are, there might be one of his regular Two-points in that color available to see as a demo at a festival near you this summer. (But you didn't hear that here...)
As you can see Austin has a lot of exciting instruments in the oven and nearly out the door to some eager customers. Wait, is that a 'Clark' hat he's wearing?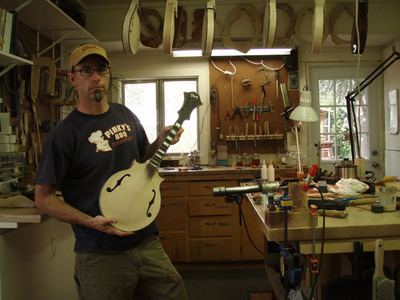 Gotta get one of them hats!...

Builder's Website: Clark Mandolins
Posted by Ted at 05:36 AM