« More opportunities for FFcP support | Main | Flatwound string project: Mandola/Octave Mandolin »

June 25, 2009 | Dr. Mao: Four Exercises to Sharpen Your Brain
We've always maintained that learning higher level intellectual concepts such as music theory are initiated best through the drilling of physical motor skills. Playing scale patterns, developing a fingertip tactile awareness is a gateway to grasping (pun intended) the harmonic relationships of notes. We stand vindicated in this by the recent research of health expert Dr. Maoshing Ni (AKA "Dr. Mao") in a published article, "Four Exercises to Sharpen Your Brain." Of special note is #3 "Move your fingers to improve your brain."
From the article: "Why does this work? A map of the brain shows that the nerve endings on your fingertips correspond to more areas of the brain than any other body area, except perhaps the tongue and lips. Therefore, finger exercise and movements can be useful in stimulating the neurons in the brain. The National Institute of Mental Health conducted experiments that showed finger exercises enlarged the capacity of the participants' brains, increased connections between neurons, forged new neural pathways, and increased circulation to the brain areas. The researchers concluded that finger exercise contributed significantly to brain plasticity, the ability of the brain to renew itself. Increased circulation means more oxygen and nutrients for the brain cells and decreased waste products that clog up the brain."
Some professionals bemoan the use of scale drills and arpeggios, citing the development of an overly robotic improvisational sensibility, but we hold they give your thought processes tangibility--something to build higher function thinking concepts. Dr. Mao suggests just the very use of working the fingers stimulates brain neurons.
Read the rest of the article for the other thee ways: Four Exercises to Sharpen Your Brain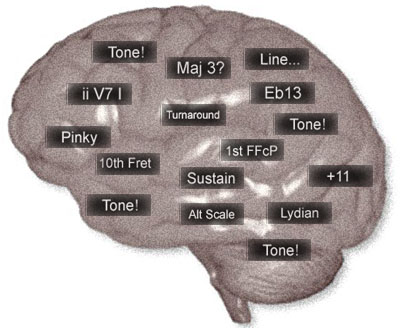 More thoughts: The JazzMando Brain.
Posted by Ted at June 25, 2009 6:01 AM