« Clean Sweep | Main | Gypsy's Octave Mandolin »

April 1, 2008 | The return of the Arrow
The latest on Paul Lestock and Arrow Guitars and Mandolins
(or "What I did on my vacation...")
First a little eye candy, and proof this genius with wood and frets has been busy: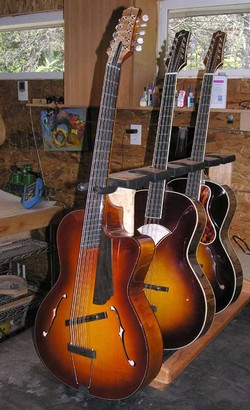 From the craftsman: "There is nothing wrong with this picture--it's a fan fret 10 string cello (some would call it a cittern, but that's way too close to cistern for my taste) Why 10 strings? Well, I guess if some is good, more is better. The other two cellos are a little less hard to look at, but the one in the front sounds like an orchestra. The subtle differences in fret scale length between pairs gives us a pleasing chorus effect, and the zero fret keeps the strings balanced since technically there are no "open" strings."
No secret that Lestock has been away for a while; we received frequent inquiries as to his whereabouts during the last 18 months, "How do I get one of his Jazzbos?" (Definitely one of the faves in the JazzMando Research Laboratories, and stage when we can steal it away for a gig.) New house, new shop, new wife, who wouldn't be busy. More from Paul, "The new setting for Arrow Guitar & Major Fifth Instruments is about as idyllic as it gets. The first new batch is just about to be delivered: 3 cellos, 3 tenor guitars, and 6 archtop guitars. With the next batch completion, (July 2008) I will pretty much be caught up on the important stuff, and be a little more social and may even take a little time for recreation!"
With 20 inquiries a day, both tire kickers and serious customers, the old ARROWGUITAR.COM web site, is down, but should be launched soon in a different incarnation, more a gallery and contact pages, with phone number for voice contact. We have the phone number so you can get that from us through the contact button here on the JazzMando site.
Glad to have you back, Paul!
Read review: Arrow Jazzbo

Posted by Ted at April 1, 2008 5:01 AM