Michael Lewis Instruments:
(another JazzMando unsolicited endorsement)

At JazzMando, we especially encourage instrument innovation, and particularly the builders who dare to take mandolin design to a new level. Michael Lewis is a luthier we hold in high regard, not only because of the superlative craftsmanship and eye for detail, but his boldness and expertise in creating maximum tone, ease of play, and aesthetic beauty. He is one builder JazzmMando associates have carefully chosen and endorsed to bring the mandolin to the 21st Century, particularly those seeking a vehicle for intimate, yet verdant jazz character.
Michael Lewis crafts mandolins (as well as premium, handbuilt guitars) that not only play well, they are personally designed and fashioned uniquely for the individual playing style (and personality!) of the end user. Based out of Grass Valley, California, Michael's eye for good tonewood is the start of the long, careful journey in building a player's perfect and personal instrument.
The Incredible Lewis Ritz 'Django'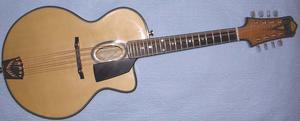 Click to enlarge
The cornerstone of its "voice," the soundboard or top of the instrument is commonly chosen from Englemann or Sitka spruce, and occasionally, coastal redwood. However, his never ending quest for the ultimate wood has also allowed him to stockpile choice options in red, Italian, German, Swiss, and other exeptional spruces, plus delicious red and white cedars. From the very start, the goal is volume, a rich, full and complex set of overtones, and good string to string balance.
Emulating the comfort and appeal of an archtop guitar, one can choose the gushing, "warm air" sound of an oval hole, or the crisper compact punch of a F holes with his respective "D'Jango" or "Wingfeather" series.
Click pictures to enlarge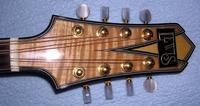 Gold Schaller Tuners adorn a carefully cut, breathtakingly accurate headstock, a great deal of painstaking attention to detail exposes a masterwork of inlay and tender appointments.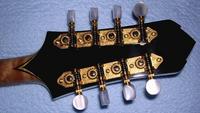 This one sports a big leaf maple neck with a flame that even when motionless, dazzles and dances in light. The virtual 3D flame joins the body in a blond, centerfold expose.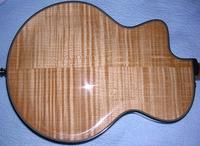 Surrounding top, sides and back with a contrasting binding, the outline both completes and contrasts the perimeter of the instrument with the body itself. Closer inspection reveals one of the most intricate thin, white inlay within inlay evocative of a DaVinci masterpiece.
The inlay around its strategically designed oval hole also mirrors and complements the top. (Like blond hair and black leather...)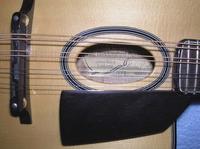 The pickgard juts over the top like some sort of Ripleys "Believe It or Not" exhibit, totally defying gravity-no tone disrupting, vibration interruption of the top, yet as solid and stable as the Rock of Gibraltar.
What isn't seen is the craftsman's greatest "secret," a very well place X bracing under the top completely maximizing the instrument's vibration and voice, like the diaphragm of a great Soprano at an Wagnerian Opera.
Michael's work is in great demand. Any kind of wait time with him however, would be well worth it. Our kudos go out to him. Anyone seeking to communicate the lush, full spectrum of harmonics of mandolin tone, as well as a lungful of line and sustain would do well to drop him a line, or at very least, visit his website at http://www.michaellewisinstruments.com
CONTACT MICHAEL:
Reach genius luthier Michael Lewis by phone at 530-272-4124, or email malewis@nccn.net

Tell him you read about his work at www.JazzMando.com!...
Have you read our "
Tips and Tricks
" column lately? We update this section every three to five days with FREE helpful hints. Visit and bookmark in your web browser JazzMando
Tips and Tricks
. (Don't forget to get caught up on the Archives at the bottom of the page!)