John Kinnard

Finegold Mandolinetto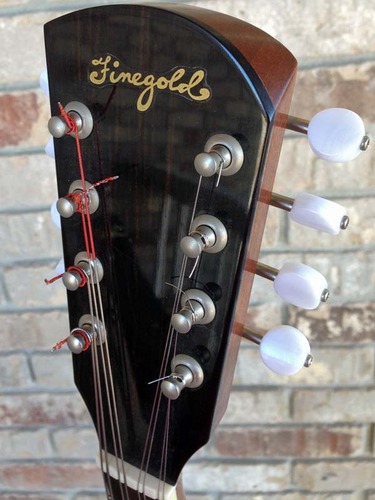 A little guitar...
San Diego builder John Kinnard has been crafting guitars for more than three decades, primarily known for his Dell' Arte brand. He has been known to dabble in mandolins, his best known a thick parlor guitar-bodied instrument known as a "Mandolinetto." We had the privilege of some hands-on experience with a 1997 build recently.
As one would expect, outside of 8 loop end strings and the fret markings, there is very little of the traditionalist mandolin in this. No scroll, no F-hole, and nothing of the bluegrass capable look and tone to be found in this. It is profoundly "guitar," and that yields its own personal panache. There are some things he did differently in this than from his current incarnations, for instance the tailpiece is a custom rosewood covered slide cover as opposed to his more modern gold Allen tailpiece. We prefer the quick-change feature of the more modern Allen, but this has its aesthetic charm, the way the wood complements the matching neck. (Breaking a string during the review presented a challenge accessing the cover.)
The top, back, and sides wood (maple we assume) is unique. Not perfectly matched flame, it still has cosmetic character and the black/white/black body and neck binding highlights it well. The oval hole is also bound similarly
The tone is deep and round, partly because of the oval hole, but more because of the added body depth. Again, you won't get that high, piercing mountain chop, but if that's your heart's desire, you wouldn't be considering an instrument like this in the first place.
One thing we'd like to see different is a height adjustable bridge. This one was set a Bluegrass player's high, and we found it difficult to play comfortably and with finesse in the upper frets. Also compensating slots with enhance intonation--we were unable to get the outside strings to play perfectly in tune with the inner courses. That would be an easy alteration.
We appreciate a departure from tradition, and this is the first parlor shaped mandolin we've been able to play.
Check out these and his more popular Gypsy themed guitar homage designs on his website: John S. Kinnard Instruments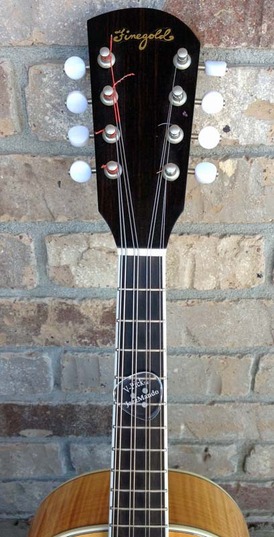 ---

Read up on other world class mandolin builders: