JBovier Mandola
FM5
The choices for quality mandolins in the full spectrum of entry, mid-line, and pro level instruments swim a plethora of choices. Even individual styles options, A-body, Florentine, 2-point, and the many hybrid options can leave the buyer drowning in opportunities. The same can't be said about the bigger sister mandola, especially in the mid price range. You can find a teens basket case Gibson or even a used Weber under $2K, but choices for an F-body at that price point are relatively limited.
JazzMando friend Jeff Cowherd, after tackling the quality mid level mandolin market, and of recent, the 4- and 5-string emando in his budget respecting JBovier line of instruments has just introduced an honorable alternative in the North American (CGDA) mandola, his FM5, weighing in at a street price hovering around and affordable $2,000. We've been privileged with an early bird experience with one of the two pre preproduction models, and have nice things to say about it.
The FM5 is built from Lloyd Loar H5 mandola plans. Folks intimate with this design will note it has a shorter, stubbier shape than an F5 (smaller F holes, too), typical of the H5. Though the instrument is not premium high-ticket boutique, his Chinese artisans have managed to craft a sonorous, easy on the ears and fingers instrument worthy of consideration by any aspiring multi-instrumentalist wanting to dabble in the alto/tenor register. We hesitate to include the word "surprisingly," because pretty much anything Jeff tackles is quality, but we were very pleased at how well the instrument behaved in our hands. Balance string to string and evenness up the fingerboard made it easy to get a pleasant, consistent sound.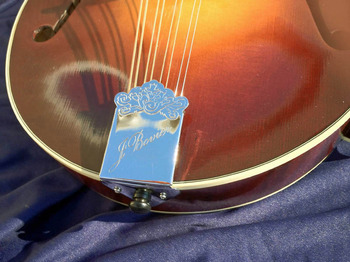 The instrument came shipped with heavier strings (50 gg on the C), but we backed it down with a string change to a phosphor bronze 12-44 (GHS PF285 Octave Mandolin), and felt more comfortable chording and playing in closed position. The instrument comes stock with a Gibson style traditional tailpiece, admittedly not our favorite, but a familiar war-horse option standard on most instruments. At this point, the production model had a custom tuner set, and final specs are still being worked out.
Most domestic built models at this price point won't have the 3-ply binding, but typical of the JBovier products, this instrument had a nice cosmetic flourish, even binding standard on the neck, and the scroll detail was relatively clean. There's something luxurious about having a scroll, but what we found even more appealing was the lap corner for allowing the back its full resonance while playing. Many will compromise in price with an A-body, but it's nice to be able to balance the larger size mandola on the knee with confidence.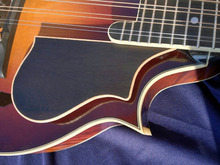 The test model included an ebony pick guard (option). One reservation is the cushions that rest on the top of the instrument for support. It might not impact the vibration, but if someone were concerned, the guard could be removed by the player. (Our preference is to have it there for right hand reference, though.)
At this point future orders will be available in traditional Sunburst, Dark Cherry, and Cremona Sunburst, shipped with a premium Jbovier gig bag. An alligator exterior Ameritage case will be available as an upgrade. A limited run will be available on the Jbovier Custom Shop website in late 2011, following close inspection and adjustment.
Expect more information to follow.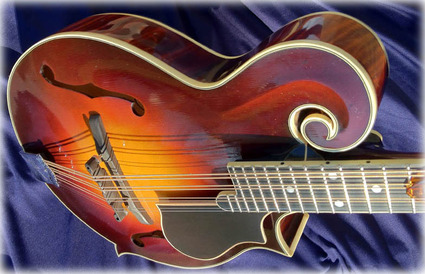 Features:
Solid Carved European Spruce Top
Solid Carved Highly Flamed Maple Back
Solid Flamed Maple Sides
Solid Flamed Maple Neck
Genuine Bone Corners
Hand Applied Stain Coloration
Nitrocellulose Lacquer Finish
Tone-Bar Bracing
MOP & Abalone Headstock Inlays
Mother of Pearl Fretboard Dots
Ivory/Black/White (3-ply) Binding
Genuine Bone Nut
Custom Tuners
Ebony Fretboard
Ebony Bridge
Ebony Endpin
Nickel Hardware
Adjustable Truss Rod
Dovetail Neck Joint
Scale Length = 15-7/8"
Neck Width @ Nut = 1-1/4"
"JBovier" Engraved Tailpiece Cover
Finish Colors: Sunburst - Cremona Sunburst - Dark Cherry
Pickguard (Ebony w/ Maple Binding) = OPTIONAL
Custom "Tone-Gard" w/ JBovier decor = OPTIONAL
Personalized set-up, including custom label
Builder's Website: JBovier Mandolins
JBovier: Facebook Page
Developer's personal email: jeff@JBovier.net
Previous JBovier Review: Zebrawood F5
Read up on other world class mandolin builders: