Jason Harshbarger

Orpheus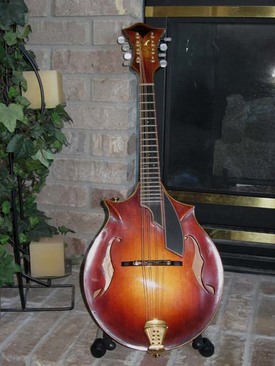 JazzMando field correspondent, Andrew Disney arranged a compelling opportunity to review a distinctive two-point mandolin from the bench of Ohio builder, Jason Harshbarger of Highland Strings. Like many successful luthiers, Harshbarger's creative efforts balance the elements of art and aesthetic with function, and if this particular instrument is typical of the rest of his body of work, the builder is worthy of significant profile.
His website lists three main models of mandolin, the Tyr, a very much contemporary take on the traditional A-body, the Icarus, a highly arched and finely graduated F-5 incarnation, and this one, the Orpheus, a signature slightly asymmetrical two-point.
The unique Orpheus exterior carving yields intriguing arching three-dimensional swoops off the points on front and back. This is pretty impressive in pictures, even more dazzling in person. The complex geometry contributes as effective sonically as artistically, combined with the highly domed Spruce top its inner chamber wields an interestingly complex and rich tone.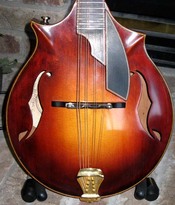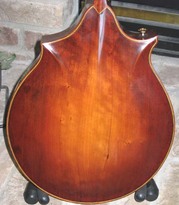 Jason considers himself a naturalist and conservationist, and mentions on his website, " I hand select most boards I use for color, figure, rigidity, weight and tap tone. I then resaw and mill the wood myself. This means headstocks, backs, and sides come not only from the same tree, but from the same board. Bridges and fingerboards come from the same timber, as does binding, end graft, and heel cap. All of this care in my millwork creates an integrated unity in strength, stability, and appearance that is difficult to find in many other instruments."
You can see from the picture of the back, he has no aversion to the Cindy Crawford "beautymark," in woods other builders might pass up. A good hunk of tonewood doesn't have to be cosmetically perfect, and he has a knack for finding candidates capable of standing tall on their sonic merits. This Cherry wood back is exceptionally vibrant, and if anything, takes great care on the part of the player to keep from stifling its full spectrum of tone by playing to close too it. (A Tone-gard would probably be a good idea for a player incapable of separating him/herself from the back.)

Its silhouette and contours as well as the captivating Tequila Sunrise coloration of the 'burst staining catch the eye immediately, but the next thing to grab (pun intended) is the way the fingers rest so naturally on neck and fretboard. Of course we have an inclination to more radically (7' or compound) radiused fingerboards (this one unfortunately was a more standard 12' radius), still the hands quickly and intuitively lock into fret sweet spots immediately. For some, flatter can be more fatiguing over a period of time; that might be an option to consider on a custom order. The neck profile is unusually thin (not "V" or rounded), but the nut and fret span are of standard width. Someone accustomed to a clubbier neck might also take some acclimation to this particular instrument. Still, we can't say enough about how easy it is to zero in on a good sound. The three-piece cut is also a nice touch; already menioned in his promotional materials, the builder goes to great lengths to use all each instruments woods from the same area of the tree.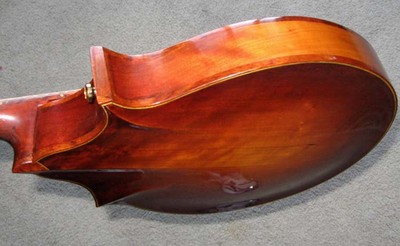 We have not mentioned the builder's professed aversion to plastic. The wood binding creates a very natural look, and his use of spirit varnish and sometimes French Polish makes for acoustically lively instruments, allowing the wood to breath sonically. This particular instrument packed healthy sonic brilliance; one would suspect that strung with flatwound strings, the overall sound might be rounder and even more jazz-friendly.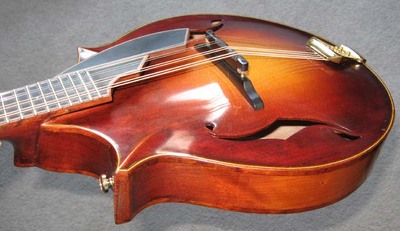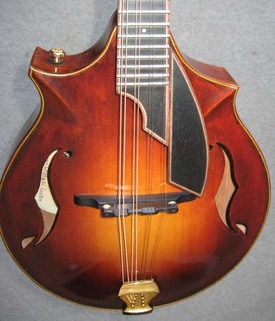 All positives registered, the most arguable concern would be the placement of the extended fingerboard. Despite the gorgeous visible allure created by its sensational geometric flow, further complemented by its matching pick guard, pick "click" will be a plaguing issue for many players. Of course, one could maintain this forces the player into a defining, less muddy picking area of the string, we would have liked this significantly shorter. Evidently many other players have found their way around this issue or there wouldn't be so many made like this over the years.

More on the visual nuances, the "Broken F" F-holes are a compelling signature panache for the builder. It's encouraging to see a departure from the everyday F-hole, and this one is nothing less than exquisite. You can also see a similar daring in the the headstock, with the Abalone inlay HS logo, and unique contrasting wood inset on the face and a complementary blending overlay on its back. Harshbarger's attention to detail literally surrounds the instrument, with its purfling traversing headstock and the rest of the instrument.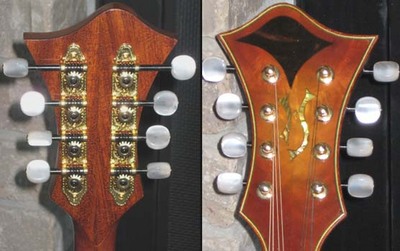 It's especially alluring around the heel and back.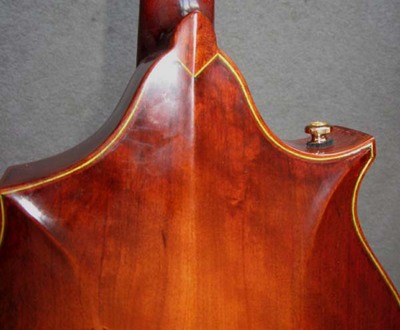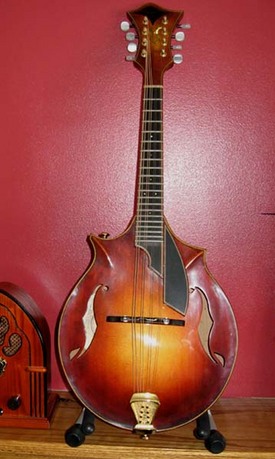 Balance is terrific, both physically and aurally. Weight from signature headstock to body lays comfortably, resting naturally on the body, and there isn't a weak area on the fretboard. It plays superbly through all positions and easily maintains its purity in the upper frets. Again, though a more deeply radiused fretboard is not everyone's preference; those wanting more endurance and comfort in frequent closed position melody and chording would enjoy this model even more and play with comfort longer.
The Orpheus is extremely versatile for a myriad of styles. It's capable of some healthy projection, radiant with a full spectrum of tone, and as mentioned earlier, with the right strings capable of verdant, melodic warmth.
Builder Informaton:
Highland Strings
Jason Harshbarger - Luthier
7450 Timberview Drive
Cincinnati, OH 45241
513-207-0536

Website: Highland Strings
Web Contact

---

Read up on other world class mandolin builders: