Field Testing
Journeys by James Condino
Photos by Randy Pomeroy and Paul Koubek
Traveling light...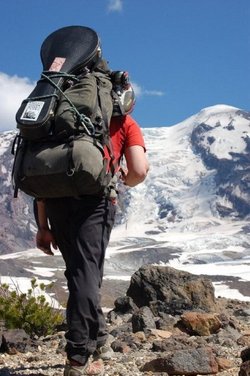 Over the years, I've heard a lot of different people talk about their instrument designs and how they have tested them. The numbers side of my personality loves to see the frequency analysis charts, the failure point data, all the techy stuff. There is another side of me that takes a different approach to testing instruments. I've had the lucky opportunity to travel in about 40 different countries, always with an instrument in hand; usually with the best one I own in tow. Most people I know would take their beater instrument out into the field. Life is short; I always take my best. As a luthier, a hard year on the road for me is sometimes better than 20 years use for some of my customers who take better care of their instruments than I do. I want to see things fall apart.
Paul is part of a group of small but adventurous people I've know for about half my life who share a passion for adventure and having fun playing great music. Sometimes I'm the mandolin, guitar, or upright bass player. Sometimes the medium is a sailboat, a raft, kayak, a bus, a bicycle, canoe, or like this journey--afoot with crampons and techinical mountaineering gear. Randy and I have known each other for a half dozen years and share a passion for music and adventure; this was our fist time joining up with Paul.
Messing with Randy a few days before we headed out, I casually said it will be fun to have you bring your guitar up the mountain with us. 'You want me to bring my guitar 12,500' up the Adams Galcier???" Nonchallantly I replied back, "I brought mine to Everest basecamp in '93. It's about 7000' higher... I'll pack a mandolin." That did it; I'd just set the challenge like a 13 year old's playground dare. Two days later we were on our way. Three amigos headed up southern Washington's Mt. Adams north side via the Adams glacier route. I used to guide that route--it would be a treat to be back up on an old friend.
I hate warranty work. I'd much rather fix something on my end before it goes out the door rather than have it come back later. When I used to teach lutherie at Oregon State University, our test machine was a pretty good sized fellow named Mike. When in doubt about your construction or a new idea, build two and give one to Big Mike. AT close to 300 lbs, he'd clamp your neck in the vise, climb up on the workbench, and procede to "walk the plank" on your work; not everything survived. The phd engineering students would take one back to their department to measure all the numbers of the destruction like little kids crushing toys in the sandbox. That sort of lab work is great; I've got my own version of filed testing that I've been doing for most of my life.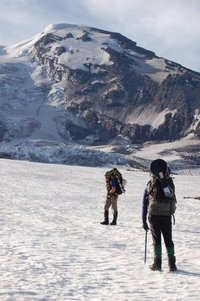 Everytime I get out now I see a glacier that used to be a nice climbing route has dissappeared; global warming casualties. The Adams glacier was in top form. It's beautiful to look down into those giant clefts and see the deep hidden life almost pulsating from the blue ice. Do we even have a vocabulary to describe that? I bet the early humans who lived during the pleistocene did. They also knew their temptation. I've seen deer, sheep, and bear all out wondering up glacial routes miles from the Timberline/Alpine zone transitions, just as curious and weary as I am, pulled in by some lure from the route. We've all heard of the snow leopard. What about the Yeti? Mt. Adams is prime bigfoot location. There used to be a well funded group over in Hood River- The Bigfoot Research Project. They had a fancy well equipped helicopter that would take off every time there was a sighting. The locals claim there is a huge human like footprint cast in a recent lava flow not very far from where we were headed.
The coyotes will regularly sing back to you around the treeline when you get a good groove going. It seems even more so when you have a couple of instruments that are harmonizing together. The songbirds love it at around daybreak when they get active.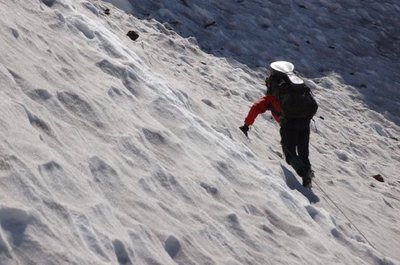 I can't verify it, but this may have been a mandolin first ascent for this route. When I worked as a ranger in the high Sierra, I ran onto a group of fellows who were systematically trying to golf their way through a hitlist of major Sierra peaks. Backpacking with golf clubs seemed like a normal thing for them. "Why are you carrying a guitar way out here?" The answer was easy: hot spings...
7000 + commercial miles as a river guide. I've never got an instrument wet on the river; drybags were always worth close to their weight in gold. Lots of busted up instruments and three destroyed cases. In Lava Falls, I dropped into the left side of the ledge hole and one of the guitars didn't make it through the wreck. Everything stayed intact, but it felt like a plane crash. The entire back of one instrument was smashed in, through the case and drybag. The only sign I could find of what did the damage was a huge dent in the back of one of our helmets and a sore neck for a week from hitting so hard.
I'd pay a small fortune if the Pelican case people would make me a bombproof injection molded, waterproof down to 20m, O-ring sealed, pressure relief valve mandolin case. In a guitar size, they would sell thousands. My new upright base has a detatchable neck; the body fits into a nice military surplus case. I once bought an old 1930s aluminum AlCoA bass for a river trip. Strap it down on the raft frame and tie down a big cargo net over it. Tunes on the river...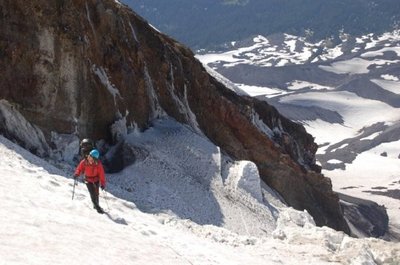 Three years ago in Baja, in between hurricanes, it got so hot that the neck melted off my wife's fiddle--indoors, inside the case. The fingerboard melted off my mandolin that same day. "Yo necessito ocultar de cola. Cola de conejo por favor..." using my best google translator at the local cyber cafe to get ready for a search. Try finding rabbit hide glue in Loretto--starting your search at the local taco stands and watering holes looking for grey haired carpenters.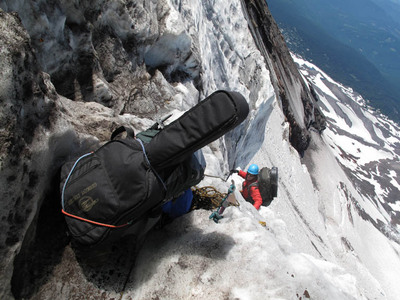 Yeah, yea.. on belay--don't forget to capo your guitar up to A for this next pitch...
Out in the southwest desert, I've run into beautiful side canyons with amazing acoustics. Places where a hand drummer can talk with themselves off the wall, natural l0 second delays, overtones of voices bouncing off sandstone. Friends have told me that they can still hear the music even after hiking miles up the canyon. Every time I step over a deep crevass or snow bridge where I can look down, I think about lowering down into the abyss to pick a few tunes and hear it bouncing along the ice walls. Would the sound work its way out to the openings down at the glacier's terminus flowing out like the pure stream water? What instrument's voice would travel the farthest?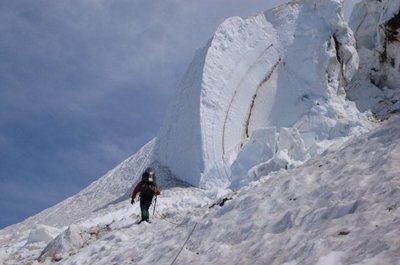 There were a lot of points up the route, where I would visualize: Ok Paul or Randy punch through the snowbridge and I need to self arrest and hold the team; ice axe dug in hard, front pionts of the crampons madly gripping for a positive hold.The bulk of that mandolin case and surface volume--I could use it buried as a "deadman" anchor. Fantastic anchor; I'll need that and those couple of pickets to set a solid one if I need to rappel in. The ice screws have already been handy today. Can I reach back one handed and disassemble everything while still holding everyone? That 5mm cord work for a good prussic cord and come in handy. 'Need to tighten up the strap on my left crampon... doing all that with just one would suck. What if I'm the one who punches through...will the mandolin case act like a giant cork and lock me in?
Working my way up to the to the high country in Nepal, I met an expat Brit who was so excited I had brought a guitar with me that he bought me an incredible Yak (was it Nak?) steak dinner and a bit of rakshi at the local lodge so that he could get a nice hour free to play the guitar and busk the main intersection - Namche style--while I savored the strong beast's flavor mixed in with garlic butter and herbs and drank the local brew. Little did he know that I'd been busking for my room and board every night for weeks. In a place where a good home cooked meal and rack in a simple lodge only costs 50 cents, but you've got to walk a couple of weeks to have electricity and be able to head radio or recorded music, having your instrument with you makes you an in demand celebrity every night while you are watching dinner prepared around the hearth for a couple of hours.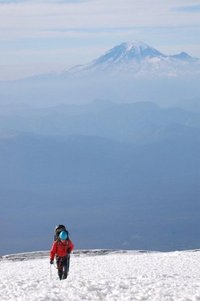 Topping out with Mt. Rainier in the background. When I was in the US Air Force, I can remember flying into Seattle and getting put in a holding pattern for about a half hour, patiently flying around Mt Ranier and looking down to see little bright colors from climbers working their way up the mountain. In the back of the jet, I had about a half a pound of sand and dust from the other side of the world still trapped in my mandolin case from months in the Gulf. There is a reason some instruments look like they've been to war.
We couldn't resist getting the instruments out and enjoying a nice hypoxic jam on the summit as we waited for the upcoming sunset. The temperature was dropping, but we were able to do a fair job of playing music.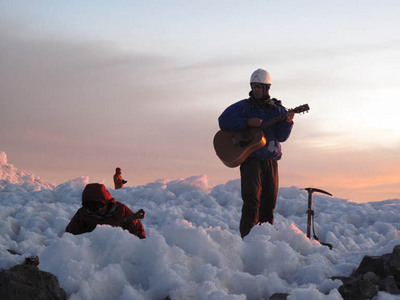 Bicycle commuting in the city may be the scariest field testing environment. Mandolin encased and inside your messenger bag or backpack, in between six lanes of busses in the heart of downtown, trying after a while you find out sneaky little things. If you can make a hard push for 20-30 blocks, pedaling about 11 miles an hour will keep you in front of the wave from the rest and make it seem like you've got all 6 lanes to yourself--unless you catch a wheel in the trolley track or get sideswiped; 4 helmets completely destroyed, but every mandolin has held up through the hits in a $120 case. I keep wanting to have a custom ultralight carbon fiber case made- like a high tech exoskeleton. Low profile and bombproof.
Seated in the rhime ice, it seems difficult to remember camping at "the Devil's Kitchen" along the river in the Arizona desert five years ago. By the time I finally returned to camp and my mandolin, I would say that the case was close to 175 degrees F inside. My mandolin was at full tension, strung up to pitch, and had wound up sitting in the sun for so long that the shellac finish melted into the case fur lining like it was all glued together. Everything else held perfect--not even a fret moved. That was the day I finally decided my dovetail joints were working pretty good. Two hours later everything had cooled off and we were back to picking away in the slot canyons.
Sunset and sunrise are always incredible on the summit; it's difficult to describe the vantage point you have and the color saturation in the thin air. I'm pretty sure that there was a forest fire burning somewhere south of us that was adding to the brilliant colors of the sky. There is nothing like a good fire or pollution from a nearby dirty city to heighten the colors.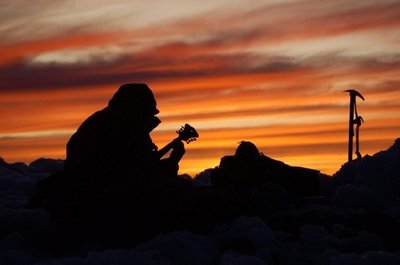 The stars that night were truly amazing. We had a great time the next day laughing, telling stories, and playing music. We seemed to have plenty of food and fuel, and were having so much fun that we decided to bivouac another night.
A bottle of superglue will make a quick fix on almost anything for your instrument and only make you take a 15 minute set break- even for a collapsed upright bass bridge with huge tension on it. A double fisherman's knot works to mend a wound or unwound string; a capo above the break will avoid the knot for another week or two and make you get outside of your familiar playing positions. A box of extra thick lawn care garbage bags and a couple of rolls of duct tape work well enough to get you through a couple of weeks on a river or an ominous storm.
I've cooked hot hide glue on a juniper fired woodstove in a yurt, an old Coleman camping stove, many lightweight backpack stoves, in a small can sitting on the manifold of an old Landcruiser with the engine running ( you can also roll up a burrito in aluminum foil and do a fair job at cooking it--definitely warm with the cheese melted), on top of a Dutch oven, using a small twig fire, and out in the middle of the desert next to an old hippee teepee using a solar powered sun collecting mirror. I always try to have a small canister of granulated hide glue somewhere in my travel kit, I keep waiting for the day when I try to explain that one to the local authorities." Officer, it's only bunny glue. It'll fix anything. You know--rabbit skins cooked down; old school."
Back on top, by the second day, we were getting pretty good at this. Folks were coming up via the other routes on the mountain only to find us laughing like crazy and playing music constantly; a veritable party on the summit. It seemed only natural that more than one person reached into their packs and pulled out a few PBRs while we were playing. I asked one of them what kind of person brings alcohol to the summit? He looked me square in the eye and asked who brings a #$@&!%# guitar climbing??? I got right back in his face: "Randy did; this is a mandolin".
Whenever I've come back into the country from a bit of oveseas field testing, the customs guys have their own field day over the instrument; same thing with the airport securty . A fellow in Bengladesh looked at my mandolin, my US passport, and then told me that he was happy to have a famous rock musician here who of course knew Madonna and welcomed me into his country; please clear the line sir.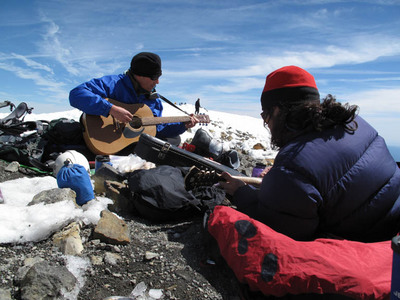 There is something about the combination of altitude, too much sun exposure, and the cold nights. I swear my mandolin was starting to sound like it had a Virzi inside.
By the end of day two I was thinking about being up on Mt. Fuji. We could have gone to busk for a couple of pints at one of the numerous lodges scattered along the trail. I did that a few too many times, came down after dark, and wound up on the opposite side of the mountain as my car. $175 taxi ride.
When I think about it, I guess I've been filed testing instruments all of my life. When I was in primary school, I can remember a big hill that all of the kids would meet at after school. In the winter, it became a great sledding hill with a long safe runout. My ride of choice was the brand new social studies book with a slick hardcover. After I had destroyed that, the next logical choice was my guitar case.
Jumping into an old VW Vanagon with 300,000+ miles on it at the trailhead, we a delcared the journey a success. Randy tried to get us to join him on a motorcycle journey across Ladakh for the next adventure.
All this with a traditional format of a little spruce, maple, ebony, hide glue, and shellac. I can't imagine how far I would push things if I had one of Peter Mix's carbon fiber mandolins.
j. condino

---

Website: www.condino.com
More: The Mechanic's Corvette
Read about The Green Cricket!