Ben Wilcox
BRW Oval Hole LT-H4-E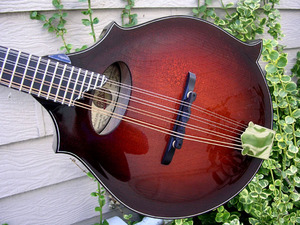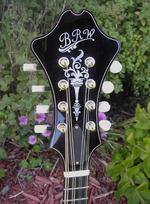 We've had an eye on the work of Benjamin Wilcox the last couple years. It's rare for someone so young to grab the attention and accolades of the mandolin world and rise to the top so quickly. Early on we thought he was known for his traditional Florentine body styles, but that's only because his first F-5 production models were so magnificently lauded by many working Bluegrass musicians.
We were intrigued by his excursion into more modern variations, and though we have yet to try one, we thought his J-16 model and its philosophical departure in form and tone production might be of interest to the jazz world. A rare opportunity came before us when one of his overtly satisfied customers, Doug Young of Manassa, Virginia generously offered us an extended hands-on glimpse of one of Ben's recent prototypes, a Lyon & Healy tribute oval hole with some interesting hybrid mutations. Though the instrument was intended as a test case project, it marks a promising future and additional new direction for the prodigious builder.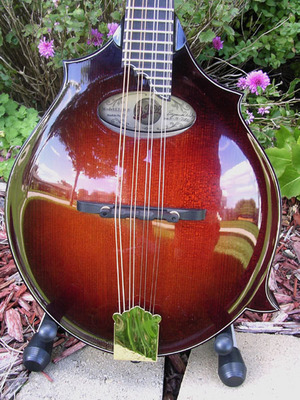 The asymmetrical two-point and elliptical oval hole from the "waist up" will deceive the player into thinking he/she is about to pluck a characteristically tubby but warm vintage classical instrument. However, the young innovator infuses some magnificent hybrid construction deviation. Embracing (pun intended) an internal X or cross-bracing pattern for punch under the Red Spruce top, and an elevated fingerboard, he has melded the best of both worlds, a mid-range defining clarity and an upper-mid producing crunch atypical of a two-point Oval. Don't expect it to pack a banjo-killing smack, but it is capable of some serious definition and power. It's got "POP!" instead of "bark." Throwing all caution to the wind, he enjoins an ergonomic and stabilizing lap corner resulting in a tone composite to satisfy virtually any front-porch picker.
Our first impression after first tuning the instrument was the word "adult." Though barely hours (if not days) old, the maturity of tone and comfort of the elevated 15-fret fingerboard deliver an easy-to-access, complex robustness characteristic of an older classic instrument. Wilcox has carefully honed his building chops, metaphorically and literally measuring twice and cutting once, to produce a decidedly refined instrument right out of the gate.
String to string balance is impeccable, strong fundamentals in each and no gaps from high to low, up and down the fingerboard. His intentional hybridization is quite successful and happily does not wield the inherent flabbiness of the Lyon & Healy or the overbearing brassiness of the traditional Gibson F-5 wannabees. We ponder, "Is it a jazz instrument?" Why not... There's plenty of versatility in this ax to cover just about any style, a remarkable feat for any oval hole instrument.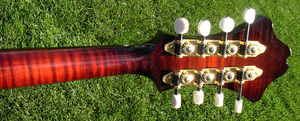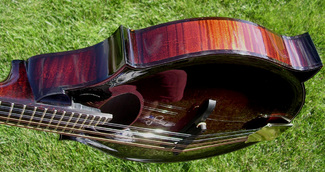 Fit and finish are truly world-class, worthy of senior experienced instrument makers twice his age. The basics thoroughly covered, he throws in some interesting curves in cosmetics. He has bound neck and sides with an unusual strip of tortoise binding, patterned with a smattering of random yellows and unique subtle striations. His Cherry Cola staining visually betrays the unique sound, and is as interesting as the tone its wood wields.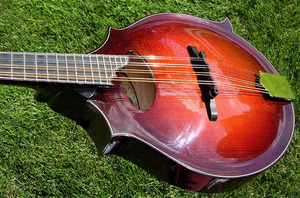 About the choice of finish, Wilcox offers, "The nitro lacquer is pretty thin and exhibits shrinkback unlike polys, but sounds really good, is repairable and ages like old instruments. It isn't as smooth and plastic-looking as polyurethane, but it's more organic and 'real' looking."
A quick word about the back; this is an extremely resonant wood, Red Maple, and we found it to be very susceptible to the hazards of inadvertent abdomen or chest dampening. If you are the type of player that holds the instrument closely, the extra hardware of our friend Tony Pires, a tone-gard is an absolute "must-have." The nice thing about the lap corner however is it makes it easier while playing sitting down to comfortly inch the instrument forward. In the bigger picture, a blatantly resonant back is a wonderful problem to have!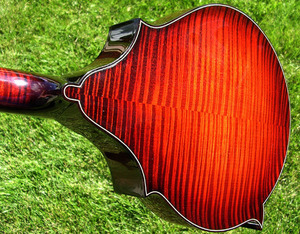 We adore the oval hole, its classic elliptical shape, but our preference would have been a more ornate trim like a tortoise binding; officially, future stock will include a lovely surrounding rosette. Some might find the darkly stained opening beautifully understated, devoid of distracting bling, but we'd be game for a bit more cosmetic panache in this area.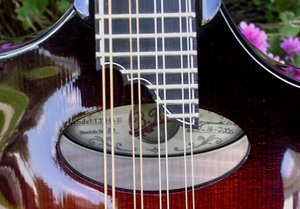 The unusual fretboard extension cut is exquisite, although Ben intends to simplify this in future models. We dig the intricate "stepped" look and encourage all models to continue this feature that makes the extension delicately dance over the hole. Also, the blank fretboard with no fret markers might bother some. The side dots are very visible to the player though, so this might not be an issue. We'd opt for something delicate here to enhance the delicate white line surrounding the face of the fretboard, but that's strictly a matter of cosmetics and personal taste. If one can only see fret positions with while hunched over the fingerboard, there are probably bigger issues at stake--like finding a good chiropractor or Yoga instructor.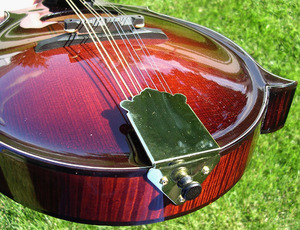 Another potential upgrade to consider would be a more ornate and functional tailpiece. Albeit, this is a prototype, and Wilcox fully allows for this kind of modification; it's our understanding the owner may very well opt for a cosmetic upgrade--engraving or better, a BRW/Bill James style Tailpiece.
The instrument came in a Spartan but fully serviceable "Traveler" high-density foam case with Cordura outer fabric. An owner might pursue a more boutique case in the future, but this model is used extensively in professional and amateur/hobbyist circles. Bottom line, it protects the instrument well with durability and an internal humidifier gauge. Its utlitarian light-weight convenience may well offset a player's desire for something heavier and more upscale.
The owner has already opted for one custom modification, the ornate ivoroid tuners. Not usually our cup of tea, but it works exquisitely here, contributing to a richly "classic" aura in the rest of the instrument's overall appearance.
We call this instrument a success, anticipating many more fine instruments from the BRW production facilities.
Builder's Website: BRW Instruments
Contact BRW: Ben Wilcox
---

Read up on other world class mandolin builders: